Our Sustainable Dog Food
With the climate crisis worsening every day, reducing your environmental impact is more important than ever. Little shifts can make a big difference; and yes, your green initiative can start with your dog food. Simply choose our ethical dog food.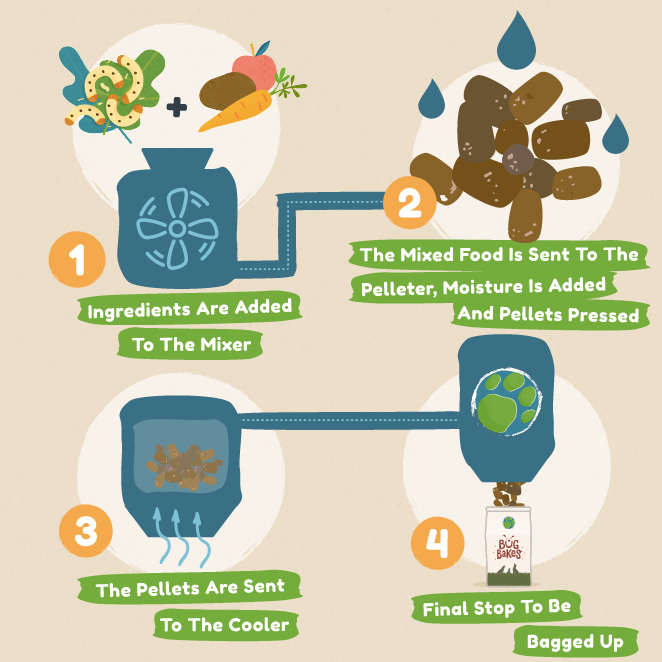 Our cold-pressing manufacturing process requires lower temperatures and less energy than traditional extrusion. It produces a kibble that is easier to digest and loaded with more nutrients, giving your pup more value from their meals.
Plus, we source as many of our ingredients as possible from ethical British farms, dramatically reducing our reliance on imports and the greenhouse gases emitted from international shipping. We even use the wonky produce that supermarkets typically reject, saving tonnes of food waste, and we press and seal every bag of food right here in the UK.
What to Look for in a Sustainable Dog Food
There are a few characteristics that make a dog food recipe sustainable.
Alternative Protein
Livestock farming produces immense amounts of greenhouse gases that contribute towards global warming. Finding proteins that are less of a burden, such as insect protein, reduces these emissions.
Animal Welfare
We often think pet food is just made up of the scraps and offcuts of our meals. However, the meat is usually from animals kept in poor living conditions to increase the potential profits. You should choose a food that champions animal welfare and protection.
Recyclable Packaging
Most plastic ends up in landfill and can take hundreds of years to decompose. We choose recyclable packaging that can be easily dealt with and used again.
Organic Ingredients
Chemicals in insecticides and fertilisers can kill the plants and animals that they are sprayed onto. Organic foods do not use these harsh substances, eliminating the damage they cause.
What to Avoid
Here are three red flags when it comes to dog food:
Palm Oil
Palm oil is often used in dog food and treats and to feed livestock. The industry destroys acres of diverse habitats and rainforests, endangering animals and reducing the amount of carbon sinks on the planet.
Animal Testing
Animals used in food testing are often kept in poor conditions. You should investigate the brand's testing practices to ensure they prioritise animal welfare.
Factory Farmed Protein
Factory or battery-farmed meat is an unfortunate staple in the dog food industry. Free-range and organic ingredients are far more ethical options.
Using Insect Protein
Livestock farming is one of the largest contributors to the climate crisis as cattle, pigs and chickens all release greenhouse gases and require huge amounts of land, water and food to keep. Their feed often includes palm oil products, which are among the leading contributors to deforestation.
By choosing novel insect protein, we have championed sustainable insect farms in Ireland and the Netherlands. It means fewer emissions and requires less space and resources. 
To produce just 1 kg of food, farming insects requires 2,000 times less water, 235m2 less land and 12 times less food than farming beef. It releases 100 times less greenhouse gas and delivers more protein per kg, giving your dog even more nutrients.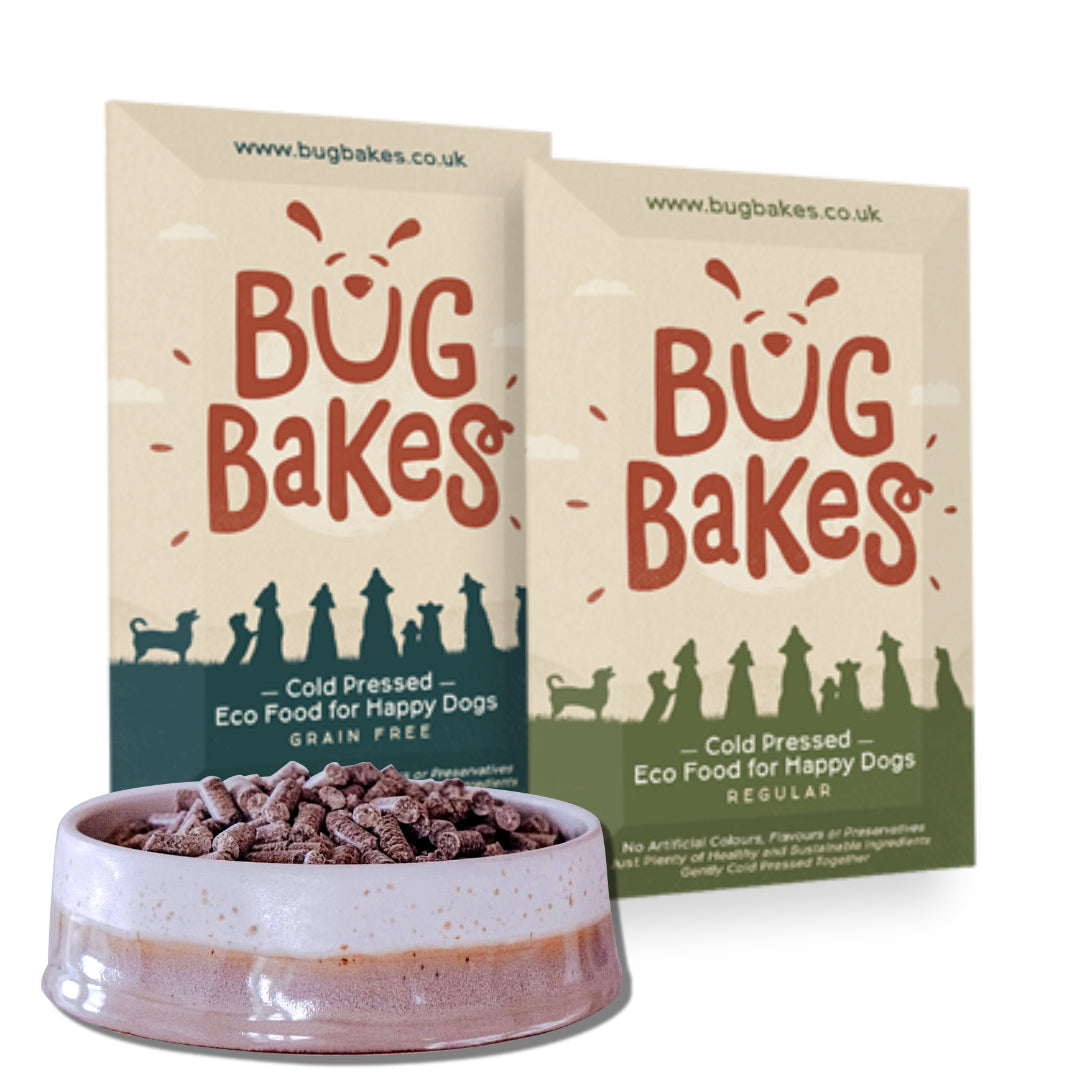 Our Packaging
Over its lifetime, your dog will get through a lot of food, especially since ours is suitable for any pup over two months old. That means a lot of bags going into the bin.
All our packaging is 100% recyclable. You never know, you could get the same bag twice.
Our Grain-Free Recipe
To cater to dogs with gluten intolerances and grain allergies, we also have a grain-free recipe that replaces oats and barley with potato and sweet potato. It provides the necessary carbohydrates and additional vitamins and minerals to support your furry friend through their day.
Learn More
Our Subscription Service
You can use our custom calculator to identify how much of our food your dog needs daily. Then, with this information, sign up for our subscription service to ensure you always have food when you need it. Plus, you get the exact amount you require, reducing waste.
With the subscription, you get 10% off every bag you purchase. On top of this discount, we donate treats to a local animal shelter whenever you order, helping them care for more animals.
Hypoallergenic
Full of Nutrients
Delicious
Improves Digestion
Recipe Crafted by Canine Nutritionists
Promotes Shiny Coats and Healthy Skin
Manages Oral Health
Ethically Sourced Ingredients
The Natural Ingredients in our Ethical Dog Food
We created our recipes with the help of canine nutritionists to deliver all the vitamins and nutrients your dog needs daily. It is loaded with soluble and insoluble fibre and Vitamins A and C.
Protein 28%, Fat 11%, Fibre 5%, Ash 7%
Our Regular Recipe
Insect Protein - 33%
Barley - 27%
Oats - 13%
Apple - 4%
Carrot - 4%
Linseed - 4%
Beet Pulp - 4%
Seaweed - 1%
Blueberries
Chicory Root Extract
Vegetable Gravy - 4%
Brewers Yeast
Prebiotic MOS
Glucosamine 400mg/kg
Chondroitin 200mg/kg
We Cater to All Ages and Sizes
How We Weigh Up Against the Rest
Insect protein contains very little fat, allowing us to produce an ethical dog food recipe with an extremely lean 39% fat-to-protein ratio. It delivers all the nutrients your pup needs. What's more, our cold-pressed manufacturing method retains more of this goodness than traditional extrusion and creates more digestible kibble. 
With our subscription service, you can save 10% on every item you order from us, making our products even more affordable.
Testimonials
My dog loves Bug Bakes. She is very healthy, the right weight and has a lovely shiny coast. She's been eating this for over a year now. Thank you so much for giving us a greener alternative she loves.

Lynne F
I am very happy with bug bakes my girl absolutely loves them .

It has help me to get her weight under control 

And also help to sort out her bowels,

Very pleased with finding this company.

Lisa Boylan
Mabel, the very fussy border collie, will eat Bug Bakes on their own but she usually has them mixed with wet food. Everything gets eaten. No waste. Good poos. No increase in waistline. Win win.

Christine South
Our Range of Dog Foods and Treats
We don't just make hypoallergenic grain-free dog food. Discover our range of products and treats for your canine companion.