Our Insect Dog Treats
Our eco-friendly, insect dog treats are perfect for training your puppy or giving your best friend a delicious snack that delivers essential vitamins. 
Instead of traditional dog biscuit treats, our sustainable protein source creates hypoallergenic dog treats for puppies, adults, working dogs and seniors. With bug dog treats, you can lower your carbon pawprint and help conserve our environment.
Hypoallergenic
Boosts Digestion
Low Purine
Full of Nutrients
Sustainably Sourced Protein
Delicious
Approved by Vets
Made in the UK
Insect Protein Looks After your Pup
Choosing bug dog treats gives your pup a novel hypoallergenic protein source. Beef, chicken and pork are among the highest occurring food allergies in dogs affecting their immune systems for hundreds of years. Alternatively, insect protein is unfamiliar to dogs, helping to relieve digestive issues and skin conditions. 
What Goes into our Insect Dog Treats?
We are immensely proud to offer dog treats exclusively made from natural ingredients that provide plenty of vitamins and minerals. To support British farmers and reduce food waste, we ethically source everything for our goodies from the UK and use the wonky produce that supermarkets do not accept. Here are the ingredients and nutritional information:
Protein 17%, Fat 7%, Fibre 5%, Ash 4%
Oats
Carrots
Peas
Brewers Yeast
Cricket Flour
Sunflower Oil
Dog Treat Feeding Guide
We all want to give our pooches as many treats as possible, but unfortunately, excessive treats can pile on the calories. By always factoring treats into your dog's diet and following our recommended feeding guide, you can help keep your pup happy and healthy: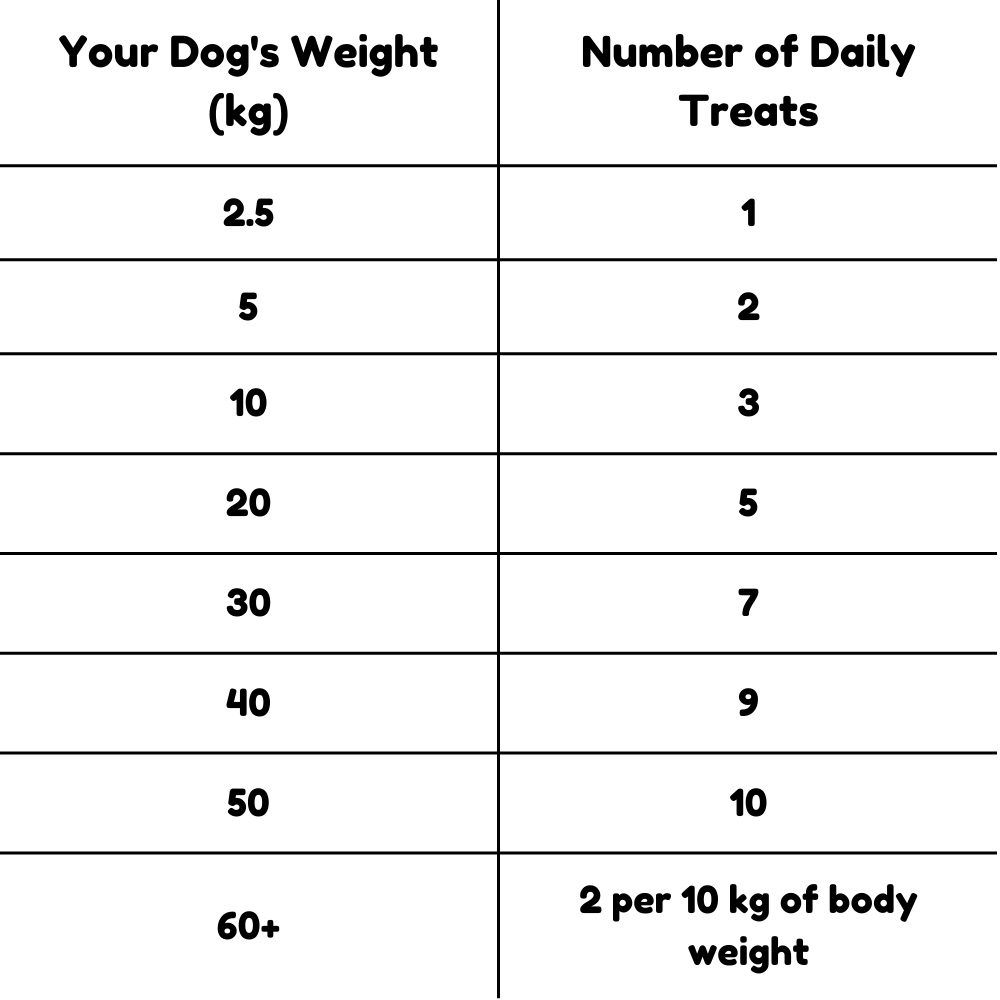 Suitable For
Any pup over two months old can enjoy our insect-based dog snacks, no matter their breed, gender or size. They are perfect rewards for Labradors, German Shepherds, Dachshunds and Spaniels, pups and seniors alike.
Puppies
Working Dogs
Seniors
Testimonials
My dogs love bug bakes. I use the treat size ones as training rewards. They are clean enough to carry in a pocket without marking the lining.

J Russ
All my cocker spaniels have absolutely loved bug bakes! It's a great product and I like that it can have water added, means I can spread it easily on lickimats and in other enrichment toys. Ross and the team have always been a huge help and extremely friendly if I've needed anything! Would definitely recommend. Bug Bake treats are also a huge hit with my girls! Great for training!

Hayley Kelly
Used bug bakes for its ethics, natural healthy ingredients and food allergy friendly bakes. My wee border terrier loves them and only 6 calories each.

Gil Brydon
FAQ
I want to give my dog treats. What type should I go for?
You should always choose treats that offer vitamins and minerals to support your pup. If your dog suffers from food allergies, intolerances or skin conditions, opt for a novel protein to alleviate these risks. 
What type of dog treats will a vet recommend?
Vets typically recommend low-calorie, healthy treats that offer various nutrients. 
What are the best dog treats available in the UK?
Our insect dog treats are not just available in the UK, they are made here using British ingredients. Plus, they include essential nutrients that support your pup's health.