Our Ingredients
Our recipes have been expertly crafted by canine nutrition experts and are packed full of essential nutrients. Bug Bakes provides your pooch with a balanced diet that is designed to keep them fit and healthy. Learn about our dog food ingredients today.
Order Now
An Overview
Our Regular Recipe
Packed with protein, fibre, carbohydrates, vitamins and minerals, our regular cold-pressed dog food is designed to support healthy immune systems, joints, skin and coats.
Order Now
Nutritional Information
No matter the breed or size of your dog, our complete dog food is suitable for all dogs aged over 2 months.
Nutritional Value
Protein 28%, Fat 11%, Fibre 5%, Ash 7%
Insect - 33%
Black soldier fly larvae contains nearly double the protein content of beef and have a higher nutrient value and digestibility score.
Barley - 27%
Barley provides a great source of fibre to support digestion.
Oats - 13%
Oats are ideal carbohydrates for dogs with sensitive stomachs.
Apple - 4%
Packed with essential vitamins like B-6, C and K, apples help to boost your dog's immune system.
Carrot - 4%
High in soluble fibre, carrots support digestion. They also provide a rich source of Vitamin A, which is essential for maintaining a healthy pooch.
Linseed - 4%
Supporting digestive health, linseed is high in fibre.
Beet Pulp - 4%
Containing essential micronutrients, beets improve your dog's immune system, digestion, coat and skin.
Seaweed - 1%
Packed with prebiotics, seaweed helps to maintain good bacteria in your beloved animal's stomach.
Blueberries
Blueberries contain antioxidants that can boost the immune system and help manage the symptoms of chronic inflammatory conditions in dogs.
Chicory Root Extract
This effective prebiotic supports gut health and can help to reduce the risk of certain diseases.
Vegetable Gravy - 4%
Rich in vitamins and minerals, vegetable gravy helps to make dog food more delicious.
Greater Nutrition with Every Bowl
Our top priority is to help you provide your dog with a nutritionally-complete diet. That is why our dog food also contains:
Vitamins and Minerals
These nutrients are central to a dog's diet, helping to maintain good health and reduce the risk of diseases.
Brewers Yeast
Containing 1% brewers yeast, our regular dog food provides a good source of protein and amino acids to support lean muscle mass.
Prebiotic MOS
The functional benefits of prebiotic MOS range from the stimulation of growth to supporting gut health and immune function.
Glucosamine
With 400 mg/kg of this amino sugar, our recipe helps to reduce chronic inflammation in the joints.
Chondroitin
Our grain-free dog food contains 200 mg/kg of chondroitin. This supplement helps to support joint health and alleviate pain.
An Overview
Our Grain-Free Recipe
Our grain-free dog food provides the perfect alternative for pups who are intolerant to grains or simply prefer a grain-free diet.
Order Now
Nutritional Information
Our grain-free recipe provides complete dog food, formulated to provide a nutritionally balanced diet with all the ingredients that nature intended.
Nutritional Value
Protein 28%, Fat 11%, Fibre 5%, Ash 7%
Insect - 33%
Insects are an unconventional source of protein that contain more nutrients and protein than traditional dog food proteins, such as beef and chicken.
Potato - 27%
Rich in nutrients, potatoes provide a great source of iron, magnesium, Vitamin C and Vitamin B6 to support strong immune and nervous systems.
Sweet Potato - 8%
Full of dietary fibre, sweet potatoes help support a healthy digestive system. They also provide plenty of essential vitamins including A, C and B6.
Peas - 5%
Packed with vitamins, peas support healthy eyes, bones, teeth and nervous systems.
Apple - 4%
Apples contain a host of essential vitamins, including B6, C and K, to support the immune system and fight diseases.
Carrot - 4%
Carrots are full of nutritional benefits for dogs, from supporting digestion and managing blood cholesterol levels to boosting skin health and supporting your dog's vision.
Linseed - 4%
Packed with fibre and protein, linseed supports digestive health and provides energy to keep your dog active.
Beet Pulp - 4%
Beets are ideal for dogs who struggle with digestive issues, helping to provide essential vitamins and nutrients.
Seaweed - 1%
Gut health is central to your pup's happiness, and seaweed helps to sustain good gut bacteria.
Blueberries
Blueberries help to reduce chronic inflammation and boost immune function.
Chicory Root Extract
Composed of a prebiotic that promotes healthy gut bacteria, chicory root extract is central to your dog's gut health.
Vegetable Gravy - 4%
To enhance the taste, all of the ingredients are coated in a gravy full of vitamins and minerals.
Nutritionally-Complete Grain-Free Dog Food
To provide your dog with a healthy and balanced diet, our grain-free recipe contains:
Vitamins and Minerals
Your dog needs the right vitamins and minerals to ensure it grows and repairs properly.
Brewers Yeast
Our grain-free dog food contains 1% brewers yeast, helping your pooch's muscles develop at every stage of life.
Prebiotic MOS
With Prebiotic MOS, you can ensure that you are feeding your dog good bacteria to support a healthy immune system.
Glucosamine
Containing 400 mg/kg of glucosamine, our grain-free dog food helps to manage joint pain.
Chondroitin
With 200 mg/kg of chondroitin, our grain-free recipe is designed to keep your dog's joints lubricated to reduce pain.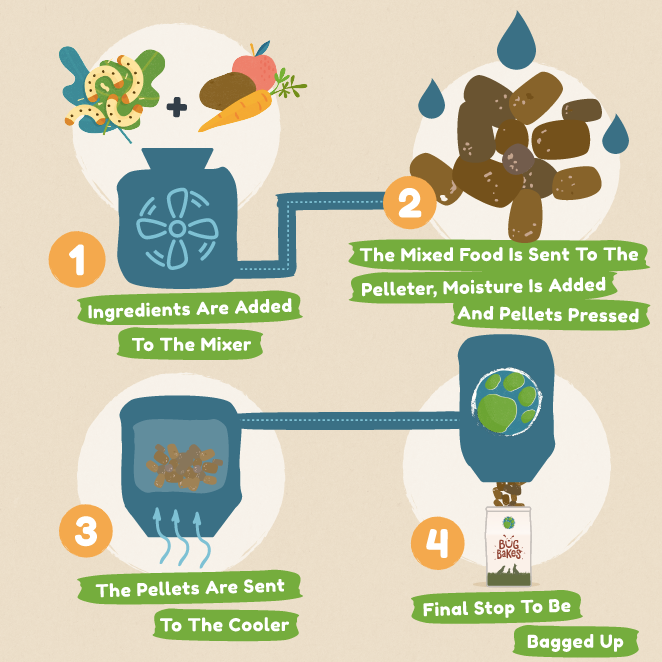 Our Sustainable Production Process
As a driver of sustainability in the dog food industry, we manufacture and ship all of our cold-pressed food here in the UK. We are proud to be certified by the Department for Environment Food and Rural Affairs (DEFRA) and believe that transparency is key to the manufacturing process. That is why we manufacture our cold-pressed dog food using a simple four-step process.
Why Choose Bug Bakes?
We believe that our food is a revolutionary next step in the industry. As the top-rated brand of insect-based dog food, according to allaboutdogfood.co.uk, here are a few reasons why UK dog owners choose us:
Sustainable
Insect-based protein provides the highest nutritional value whilst having the lowest impact on the environment compared to other dog foods. Producing 1kg of protein from insects releases 100 times less greenhouse gas than from beef.
Natively Grown Ingredients
As sustainability is central to our processes, many of our ingredients are grown here in the UK to reduce the impact of air travel on the planet.
Vet Approved
Our recipes are approved by vets and safe for all breeds aged 2 months and over to consume.
Recyclable Packaging
Our packaging is 100% recyclable, helping to eliminate plastic waste and its environmental damage.
High-Protein Insects
Hypoallergenic Blend
Our dogs have not been exposed to insect protein before, so their immune and digestive systems are far less likely to react to it poorly. Therefore, insect-based food caters to allergies and intolerances.
How Does Our Dog Food Compare to Our Competitors?
See how we perform against some of the other brands in our industry.
Get A Taster Pack Today
Supporting Your Dog Throughout Their Life
The ingredients of our dog food provide essential vitamins, minerals and fibre to support any dog over 2 months old. What's more, our food supplies the necessary nutrients at every stage of your dog's life. It is ideal for:
Puppies
Puppies need large amounts of protein and carbohydrates to support their growth. You can give your puppy more of our food to supply all the protein and calories they need as it is lean with a low 11% fat content.
Working Dogs and Large Breeds
If you have a working dog that is constantly active, our food provides additional protein to strengthen and repair their muscles. Plus, you can benefit from VAT-free food in larger 15kg bags.
Seniors
Just like us, as our dogs age, they struggle to retain muscle. Therefore, they need a high-protein, low-calorie diet to maintain their strength without putting on weight. Our food is 28% protein and helps them live happily in their golden years.
Nutritional Dog Food for Ages and Sizes
How Much Food Does Your Dog Need?
You can use our custom calculator to determine how much of our food your dog needs each day. It works for all breeds and ages.
Types of Dog Food Ingredients You Should Avoid
Unfortunately, some foods on the market use ingredients that can negatively affect your pup. When you choose your next dog food, avoid these items to maintain your dog's health:
Allergens
Common dog food ingredients like beef, chicken, pork, dairy and grains can trigger allergic reactions. You should take your dog to the vet if you notice digestive issues, itching, obsessive licking, paw biting or other sensitive skin issues. They will test your dog and may recommend hypoallergenic dog food.
Additives
We only add additional vitamins and minerals to our recipe to make sure your pup is guaranteed all the nutrition they need in every bowl. However, when looking at other dog foods, you should look out for and avoid Butylated hydroxyanisole (BHA) and Butylated hydroxytoluene (BHT), as the World Health Organisation has highlighted them as suspicious cancer-causing compounds.
'Meat' or 'By-Products'
You should not feed your dog any food containing unspecified 'meat', 'meat meal' or 'by-products'.  Even, 'freshly prepared meat' can be unspecified. It could be anything and is unlikely to have the nutritional value that your pup needs.
Onions, Garlic, Avocados and Grapes
Onions, garlic, avocados and grapes all contain persin: a toxin that can significantly harm dogs if ingested. They are unsuitable for a dog's diet.
Rendered Ingredients
Rendering is the process of turning waste animal products into usable material. It is associated with poor regulations, practices and ingredients and is always best avoided to protect your pup.
Testimonials
Very high-quality food that is excellent as a novel protein source for dogs with allergies. I use this for a dog that gets cystine stones which are exacerbated by animal proteins. I figured I'd give insect-based food a go and it has been a total win. The food is so palatable that I often use it as training rewards for clients dogs.


Kat Gunn
My dog loves this food. I have found it has increased her energy levels and improved her gut. I like the bigger bags that are now available. They are sent out on time and I can change my order anytime.

Diane Crawford
My dogs LOVE this dog food 😍 and the Bug Bakes dog treats. We have 2 French Bulldogs with lots of allergies and the Bug Bakes grain free has made such an improvement to their itching, gnawing at paws etc. their coats are now lovely and shiny too. All this AND we are helping the environment 👍🏻

Paula Johnson