Premium Novel Protein Dog Food
Are you looking for a novel protein dog food in the UK? Generally, the root cause of all dog skin and fur problems is a low-quality diet. If your dog is prone to digestive problems, allergies and intolerances, your vet may recommend that you change their diet to one that contains novel protein. Novel protein is any source of protein that your pet has never tasted before. And, it is unlikely that your pooch has tried black soldier fly larvae before.
Order Now
Our insect-based dog food provides the perfect novel protein source. Hypoallergenic in nature, insects are a suitable alternative to regular sources of protein, such as chicken and beef. Your dog is less likely to solicit a negative response from consuming our complete dog food whilst still getting all the nutrients and flavours they crave and need.

Making the Switch to Novel Protein Dog Food
Like humans, dogs are creatures of habit. However, unlike humans, dogs do not always develop allergies on the first bite. Over time, food intolerances can manifest after eating something over and over again. These intolerances can result in health problems, such as itchy skin or an upset stomach. In such cases, it is wise to add novel proteins to your furry friend's diet to keep allergies at bay. 
When you make the switch to our novel protein dog food, there is no need to worry about making sure that your dog gets the right nutrients. At Bug Bakes, we excel at crafting hypoallergenic dog food that is delicious and packed with protein. Our products are expertly designed with your dog's sensitivity and taste in mind.
Why Choose Bug Bakes?
As industry experts in our field, we are proud to produce top-of-the-range novel proteins that are good for both dogs and the planet.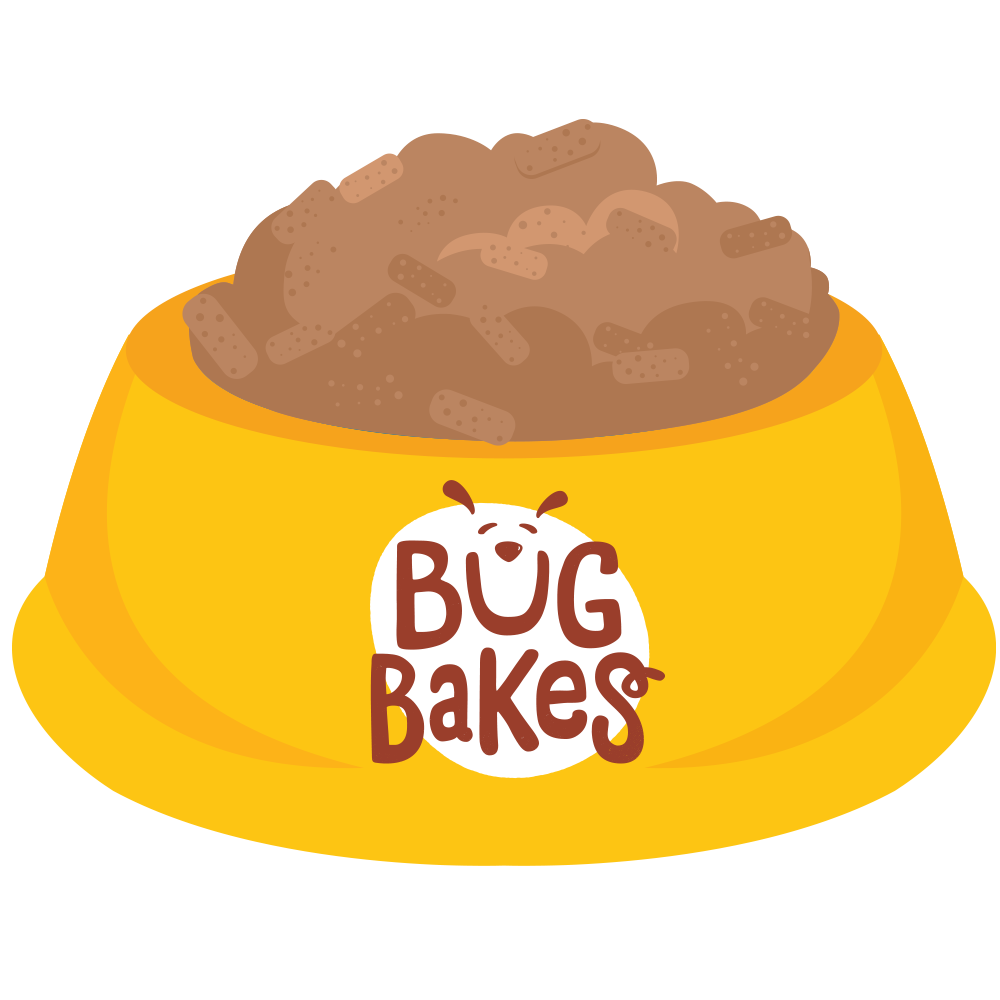 Sustainable
Sustainability is central to our ethos. That is why our recipes are crafted to reduce the impact that traditional meat-based dog foods have on the planet.
Natively Grown Ingredients
Air travel is having a significant impact on our planet, contributing to global warming and pollution. To help you reduce your carbon paw print, you can benefit from the peace of mind that as many of our ingredients are grown in the UK as possible.
High-Protein
Black soldier fly larvae provide all of the necessary amino acids to support your pup's health.
100% Recyclable Packaging
Our recyclable packaging provides a sustainable alternative to traditional packaging.
We Are Vet-Approved
When choosing new dog food for your pooch, we understand that you may want to get the green light from your vet first. But with us, you can skip this step. All of our dog food is vet-approved and has been crafted by canine experts. This means that it is perfectly safe for all dogs ages 2 months+  to consume.
It is important to ensure that you follow the right steps to make the switch safely. If you are worried about changing your dog's diet, it is a good idea to consult your veterinarian. As one of our subscribers, you can use our 24/7 vet support line to discuss any concerns you may have.
Expertly Crafted Recipe
We believe that dog food should do more than just provide your pet with all the nutritional value they need to stay healthy. Our complete dog food provides the perfect alternative food choice for allergy-prone dogs or dogs who have food intolerances. We know that it can be difficult to find a protein source that your dog has not tried before. But our novel protein dog food is composed using black soldier fly larvae.
Discover Our Ingredients
The benefits of our insect-based protein include:
High-Quality Ingredients
Our insect-based protein is high in vitamins, fats and amino acids - everything you need to provide a nutritionally-complete diet.
Anti-Inflammatory Properties
Dogs of any age can suffer from joint pain. If you notice that your pup is slowing down, this may be due to pain in the joints. Our complete dog food contains Chondroitin, Chicory, Root extract and Glucosamine - all of which contain anti-inflammatory properties that help to alleviate pain.
Changing Your Dog's Diet
Changing your dog's diet can be pretty challenging. But the good news is that we provide our customers with an approximate daily feeding guide that is tailored to your pet. This guide uses the FEDIAF-published daily calorie requirements so you can safely switch your dog food.
Our High-Quality Novel Protein
We care about helping you protect the health of your beloved animal. That is why our dog food has been designed with the help of nutrition experts, providing your pup with optimal nutrition and flavour.
With every bowl of our dog food, you can reduce your carbon paw print whilst keeping your furry friend happy and healthy. For more information, contact us today to learn more about our products.
Testimonials
Very high-quality food that is excellent as a novel protein source for dogs with allergies. I use this for a dog that gets cystine stones which are exacerbated by animal proteins. I figured I'd give insect-based food a go and it has been a total win. The food is so palatable that I often use it as training rewards for clients' dogs.


Kat Gunn
My dogs love their Bugbakes - dinner time is always greeted with excitement! I'm very happy with the results - two healthy and fit dogs. Can't fault costumer service. The food arrives on time and any changes to my order are processed really fast and efficiently. Great company to deal with.

Bernadette
My Westie loves these. They are great for dogs who need a grain free diet, she loves the crunchiness. They can be varied by adding moisture and for example, some mashed sweet potato. Loads of possibilities. A big bonus is how easy the protein is for them to digest.

H Dunn