Our Food for Puppies
We know that you are concerned about giving your puppy the best start in life possible. Their food is the perfect starting point; it can prepare their bodies for years of happiness. We deliver a nutritious punch by packing in novel protein and fresh ingredients.
Hypoallergenic
Nutritious
Delicious
Supports Digestive System
Builds Shiny, Healthy Coats and Skin
Maintains Oral Health
Canine Nutritionists Developed Recipe
Ethical Ingredients
Wet vs Dry Food?
Both wet and dry food have different advantages. Wet food contains moisture to support your puppy's health, and it is more appealing and easier to eat. Alternatively, dry food has a far longer shelf life, and you can leave it down all day for your pup to eat whenever they need it.
We have combined these advantages by creating a recipe to serve wet and dry. It is dry kibble, but you can add small amounts of water to turn it into wet food. Especially for puppies, this added palatability and ease of eating will support them.
Can Pups Eat Adult Food?
No matter their age, your dog needs food containing all the nutrients they require daily. For puppies, it is even more vital.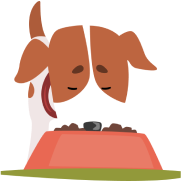 Puppies have growing bodies that need dietary support. It should include high amounts of protein, vitamins and minerals to develop healthy bones, muscles, and immune and digestive systems. Always look for a food pack with protein and natural ingredients for these nutrients.
Our food is suitable for any dog over two months old. We can sustain all breeds, genders and activity levels to keep your pup healthier for longer.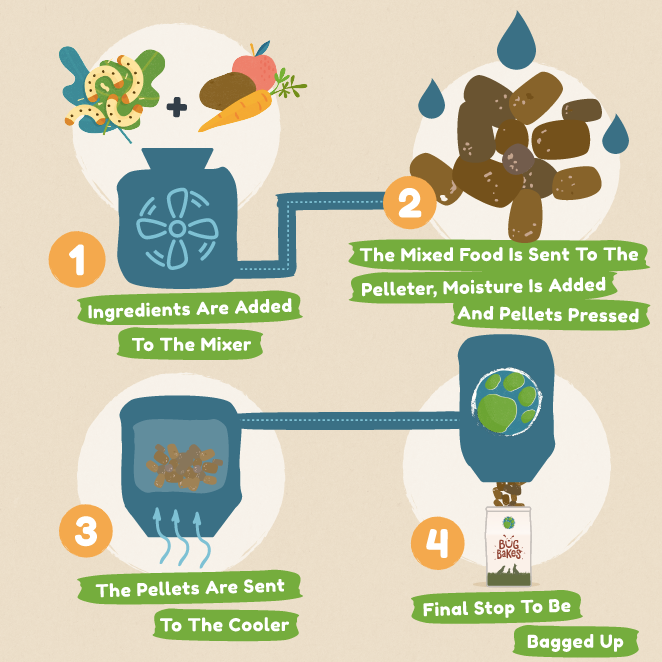 Catering to Sensitive Stomachs
Puppies often suffer from sensitive stomachs and experience digestive issues like constipation and diarrhoea. Prebiotics can ease these issues by helping good bacteria reach the gut to improve its health. We include them in all our recipes.
Traditional protein sources are amongst the most common food allergens affecting dogs. By using insect protein, we can avoid uncomfortable allergic reactions. Your pup will receive a nutritious meal without the risk of digestive trouble. 
Our cold-pressing manufacturing method reduces the stress on your dog's stomach. Traditional kibble expands when contacting liquids in their digestive system, making them float and causing uneasy bloating for our furry friends.
Benefits of Insect Protein
Insect protein looks after your pooch and the world around them. It delivers more protein per kg than meats like beef and chicken. Plus, it has a higher digestibility score, providing more nutritional value to boost your dog's muscles and body. 
Its environmental impact is far lower than traditional protein sources. Farming insects requires 2,000 times less water, 16 times less land and 12 times less food than beef to produce 1kg of protein. The process also releases 100 times fewer greenhouse gases.
Our Nutritional Recipes
We believe in wholesome ingredients that provide all the nutrients your pup's body needs to thrive. That's why we work with local farmers, load our food with fresh fruit and vegetables and prioritise wonky produce that supermarkets typically reject, using all the nutrients that would go to waste. 
Protein 28%, Fat 11%, Fibre 5%, Ash 7%
Regular Recipe
Insect Protein - 33%
Barley - 27%
Oats - 13%
Apple - 4%
Carrot - 4%
Linseed - 4%
Beet Pulp - 4%
Seaweed - 1%
Blueberries
Chicory Root Extract
Vegetable Gravy - 4%
Brewers Yeast
Prebiotic MOS
Glucosamine 400 mg/kg
Chondroitin 200 mg/kg
Protein 28%, Fat 11%, Fibre 5%, Ash 7%
Grain-Free Recipe
Insect Protein - 33%
Potato - 27%
Sweet Potato - 8%
Peas - 5%
Apple - 4%
Carrot - 4%
Linseed - 4%
Beet Pulp - 4%
Seaweed - 1%
Blueberries
Chicory Root Extract
Vegetable Gravy - 4%
Brewers Yeast
Prebiotic MOS
Glucosamine 400 mg/kg
Chondroitin 200 mg/kg
How We Compare to the Rest
Our recipes have an incredibly high 39% fat-to-protein ratio, and the cold pressing process retains more of these nutrients than traditional extrusion methods, delivering a nutritious meal that supports healthy growth. What's more, with multiple feeding options, every pup can enjoy the benefits of our food.
We also commit to sustainable practices, with ethically sourced ingredients from local farms reducing our reliance on international shipping, fully recyclable bags to prevent waste and protein that produces fewer greenhouse gases than traditional meats. 
Using our subscription service, you can affordably ensure that your cupboards are always full of our food. You save 10% on every bag of food you purchase and receive free delivery.
Testimonials
We've been buying bug bakes for nearly a year now after seeing the product on dragons den. Our golden retriever has a very sensitive stomach and before we started feeding her bug bakes she suffered upset after upset meaning we were alternating between other "high quality" meat based food and boiled chicken rice. I'm pleased to say that since starting on bug bakes we haven't had a single stomach upset and our nearly 3 year old wolfs down here bug bakes without hesitation. We couldn't be more satisfied with this wonderful food!

Richard
Our dog has been eating Bug Bakes Grain Free for over three years now and she absolutely loves it! We on the other hand, love its hypoallergenic qualities, high protein content and the fact that has a very small carbon footprint compared to other dog food...and it doesn't smell at all :-). We would like the possibility to be able to choose from different 'flavours' but that's may be just applying human feelings to dogs taste buds. Admittedly, this food is more expensive than other types, but as long as we can afford it, we'll continue to buy it!

Lucia
My cockapoo loves grain-free bug bakes. We stumbled across the brand when trying to find alternatives to meat and fish-based dog food, initially feeding a half and half mix for a couple of months. My dog is now on a fully bug bakes diet and is thriving - she is full of energy, her coat has become softer, and I love that her diet is now much more climate-friendly. Highly recommended.

SR
Our Range of Dog Foods and Treats
We don't just make hypoallergenic grain-free dog food. Discover our range of products and treats for your canine companion.