Food for Dogs with Sensitive Skin
Your dog's skin provides its first defence against the outside world. But sensitive skin is very common in dogs and can be incredibly uncomfortable. To combat it, we carefully crafted a delicious recipe that promotes healthy skin and a shiny coat without further irritating conditions.
Our specially formulated food for dogs with sensitive skin contains hypoallergenic ingredients such as unique insect protein. Your furry friend can enjoy life without suffering from itchy skin, redness, or even hair loss.
Order Now
Why is Itchy Skin Common?
Sensitive skin in dogs can be brought by multiple factors. Your pooch may suffer from flea bites, parasites, dry conditions or seasonal allergies. Dry skin is typical in the winter whereas reactions flare up increasingly in the hotter months. 
Your dog may also have genetic conditions that result in sensitive skin. Allergies can be life-threatening, though dry or inflamed skin is the usual symptom. What's more, your dog can develop intolerances to particular foods that manifest in itching and dry skin.
Key Symptoms of Sensitive Skin
Sensitive skin can be clearly visible, although our pooch's long hair can conceal these signs. You should look out for the following symptoms. 
Scratching
Rubbing against objects
Obsessive licking
Rashes 
Dry, flaky skin
Bumps on skin 
Paw biting
When Should You Go to a Vet?
If you witness any of these symptoms affecting your dog far more than usual then you should take them to a vet for a professional examination. A change in behaviour can indicate a change in condition that may harm your dog further.
How Does Your Dog's Diet Affect Their Skin?
Most dog food is made with beef, chicken, pork, dairy and grains. Unfortunately, these foods are among the most common allergens affecting our pooches as they have been diet staples for hundreds of years. Their immune and digestive systems have developed intolerances and allergies to them. 
Switching to dog food that utilises novel ingredients like insect protein and includes potato or sweet potato over traditional grain carbohydrates, can prevent allergic reactions and alleviate their symptoms.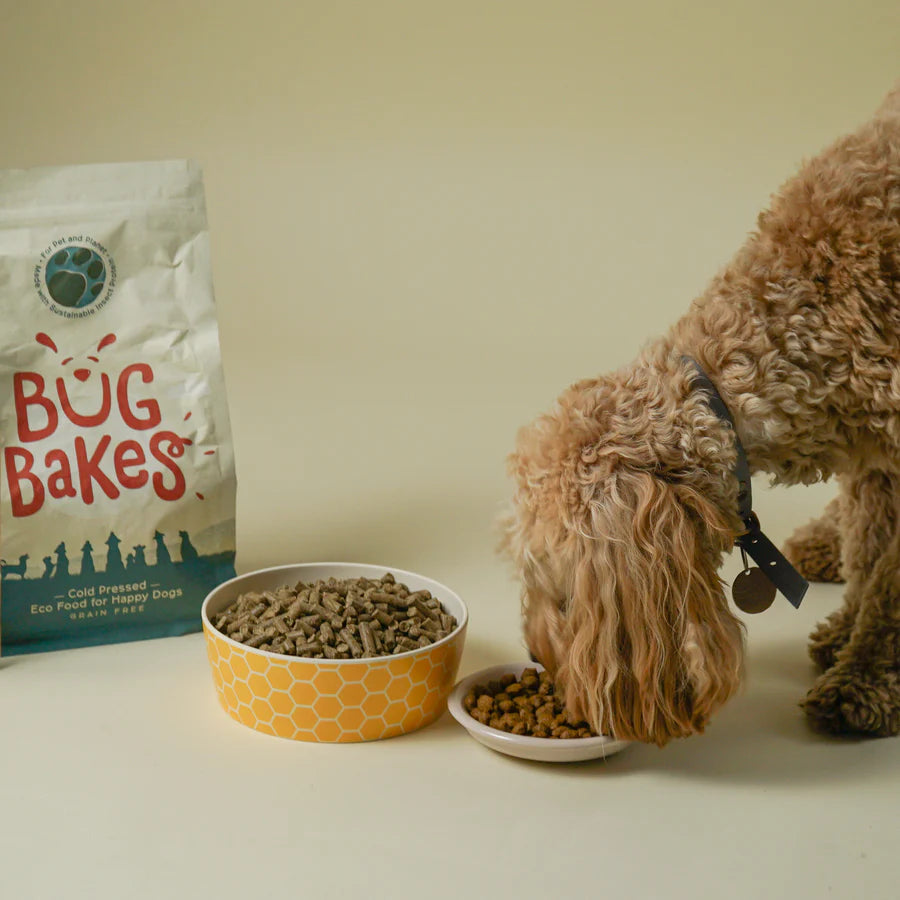 Benefits of Hypoallergenic Dog Food
Choosing a hypoallergenic food for dogs with sensitive skin helps relieve the pain and discomfort of dry, itchy skin. Here are some of the benefits:
Prevent Allergic Reactions
Offering foods with or with grains plus novel protein reduces the risk of allergic reactions by including ingredients that are unfamiliar to your dog's immune and digestive system.
Healthier Skin
While addressing the causes of sensitive skin, our food also includes all the amino acids and nutrients required to maintain robust skin and a shiny, healthy coat.
Support Immune System
Using novel proteins and essential nutrients, hypoallergenic dog food can boost your pup's immune system and protect them from future illnesses.
Vet Approved
With the help of canine nutritionists, we created a food that is approved by vets.
Our Ingredients
Our recipes were created by canine nutritional experts to ensure that your pooch receives all the nutrients they need to live happily and healthily. We prioritise whole, natural foods to deliver the best meal possible. Take a look at what goes into our food for dogs with sensitive skin:
Protein 28%, Fat 11%, Fibre 5%, Ash 7%
Our Regular Food:
Insect Protein - 33%
Barley - 27%
Oats - 13%
Apple - 4%
Carrot - 4%
Linseed - 4%
Beet Pulp - 4%
Seaweed - 1%
Blueberries
Chicory Root Extract
Vegetable Gravy - 4%
Brewers Yeast
Prebiotic MOS
Glucosamine 400mg/kg
Chondroitin 200mg/kg
Protein 28%, Fat 11%, Fibre 5%, Ash 7%
Our Grain-Free Food:
Insect Protein- 33%
Potato - 27%
Sweet Potato - 8%
Peas - 5%
Apple - 4%
Carrot - 4%
Linseed - 4%
Beet Pulp - 4%
Seaweed - 1%
Blueberries
Chicory Root Extract
Vegetable Gravy - 4%
Brewers Yeast
Prebiotic MOS
Glucosamine 400mg/kg
Chondroitin 200mg/kg
How We Compare to the Rest
With the variety of available dog foods on the market, choosing the best option for your pooch is difficult. We are proud to be the beest reviewed insect-based dog food on allaboutdogfood.co.uk, here is why we stand out:
British Ingredients
We support British farmers and growers by sourcing our ingredients right here at home. It reduces our reliance on international shipping and our carbon footprint.
100% Recyclable Packaging
When you finish a bag, it shouldn't go to landfill. Our packaging can be recycled entirely, decreasing your waste.
Protein Rich
Protein maintains your dog's muscles and helps them grow. Our food contains 28% protein and has a lean 39% fat-to-protein ratio to remove unnecessary calories.
Helps Digestion
With fibre-rich ingredients, our food supports doggy digestion, ensuring they receive all the essential vitamins and minerals we pack into our recipe.
Sustainable
We lower our carbon emissions by using an energy-efficient cold-pressed manufacturing method and choosing insect protein over traditional meats.
Promotes Dental Hygiene
Plaque harms your dog's teeth so we have created a recipe that contains seaweed to help prevent tartar build-up.
Testimonials
My 18-month lab loves Bug Bakes. It gives him a healthy shiny coat. He has been eating Bug Bakes for 6 months now and he has very few health issues. I would recommend Bug Bakes as a brilliant healthy option to any dog.

Emma Borthwick
My dogs LOVE this dog food 😍 and the Bug Bakes dog treats. We have 2 French Bulldogs with lots of allergies and the Bug Bakes grain free has made such an improvement to their itching, gnawing at paws etc. their coats are now lovely and shiny too. All this AND we are helping the environment 👍🏻

Paula Johnson
My dog -a really fussy eater- loves this food. He has this alongside human food and looks really well. His coat is really shiny and he has bags of energy. Love it! Great to find something he likes

Viv Herbert