All the Perks of Air-Dried Dog Food, By Cold Pressing
Premium Cold-Pressed Dog Food
You can make dog food in many ways and each method has advantages and disadvantages. However, we believe cold-pressed kibble is the best solution for all dogs. It retains nutrients and uses less energy than traditional extrusion procedures.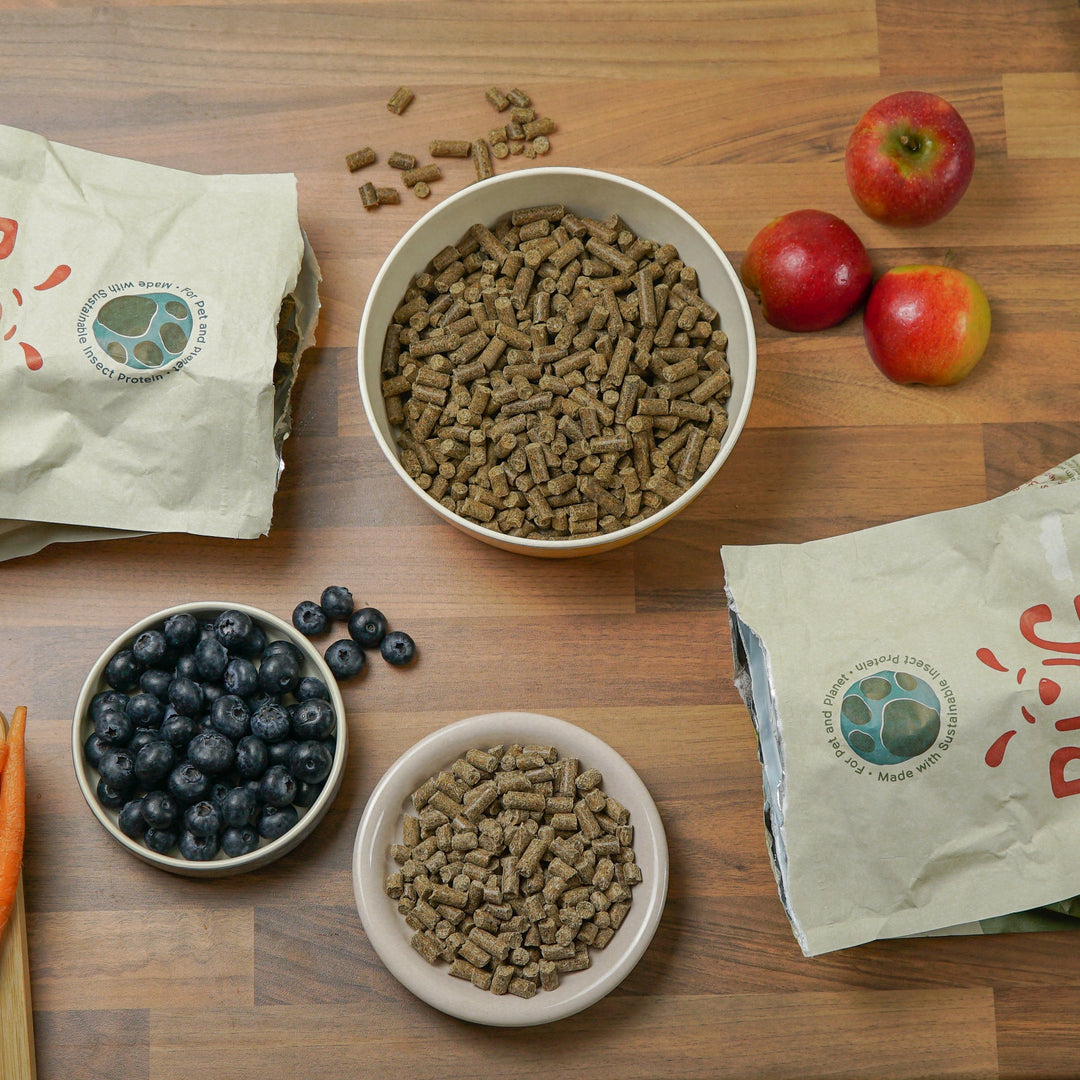 What Is Cold-Pressed Dog Food?
Unlike conventional dog foods, our ingredients are not cooked at high temperatures. As the name suggests, cold-pressed dog food is made at low temperatures and subsequently, uses less energy than the usual extrusion manufacturing method.
How We Make Cold-Pressed Dog Food
We start by mixing the raw ingredients. Then we send them to the pelleter where moisture is added as the pellets are pressed. This way, the food is still palatable and harmful pathogens are eliminated, but valuable nutrients are retained. After the pelleter, the food is taken to the cooler and then packaged into bags ready for your pup.
Get A Taster Today
Expertly Crafted Recipe
We believe in using nutrient-rich ingredients in our food. The cold-pressing process retains these nutritional values, so we only choose the best components. The recipes were crafted by expert canine nutritionists with both health and palatability in mind.
Discover Our Ingredients
Cold-Pressed Food vs Kibble
Compared to traditional kibble, cold-pressed food is far kinder to your dog's digestive system. When exposed to the conditions in their stomach, kibble pellets typically swell and float. You can see this effect by dropping a couple of pellets into a glass of water. It leads to uncomfortable issues like bloating. 
Alternatively, cold-pressed pellets break down from the outside inwards, helping your dog digest them and avoiding digestive trouble.
The Benefits of Cold-Pressed Food
When combined with our carefully crafted recipe, cold-pressed food delivers:
Increased Nutritional Value
Proteins, nutrients and fats are all essential for a healthy pup. However, heat can reduce the nutritional content of dog food, so we cook our ingredients at low temperatures and retain as many nutrients as possible.
Enhanced Digestibility
Cold-pressed food breaks down from the outside, decreasing the size of the pellet until it has all been digested. It is far more natural and easier on your pup's gut than kibble.
High-Quality Ingredients
We use ingredients sourced ethically from British farms to deliver the best quality meal.
Hypoallergenic Properties
We have replaced traditional allergens like beef, chicken, pork, dairy and grains with hypoallergenic insect protein and carbohydrates to cater to dogs with allergies and skin sensitivities.
Is It Suitable For My Dog?
All of our recipes are suitable for dogs that are over 2 months old. They will help you keep your pup happy, healthy and strong no matter their stage of life.
No Matter Your Dogs Age or Size
We Are Vet-Approved
Our recipes are all vet-approved and prepared by canine nutrition specialists, though it is crucial that you take the right steps to switch your dog's food. If you are ever concerned about your pup's diet, we advise you to consult your veterinarian at the earliest opportunity.
By subscribing, you can access our 24/7 vet support line. You can discuss any questions with a qualified professional, day or night.
Choosing the Greener Option
As cold-pressed food is processed at lower temperatures, we use less energy to produce the same amount, decreasing our carbon emissions. Here are some of the other green benefits of our cold-pressed dog food:
Sustainable
Our insect-based dog food uses 2000 times less water, 235m2 less land and 12 times less feed than beef to produce 1kg of protein. Plus, it releases 100 times less greenhouse gas.
Natively Grown Ingredients
We source our ingredients from suppliers here in the UK to support British farmers and lower our reliance on aircraft.
100% Recyclable Packaging
We only use recyclable packaging to help you reduce your carbon pawprint.
How We Stack Up
There are many dog food choices on the market. Our recipes use black soldier fly larvae, providing essential amino acids and delivering more protein and nutrients than chicken or beef. They have a lean 39% fat-to-protein ratio, and, what's more, we were reviewed the best insect-based dog food on allaboutdogfood.co.uk.
The additional ingredients we use provide fibre to support digestion and vitamins and minerals that promote healthy skin and coats. You can also choose our grain-free option to avoid common food allergens and cater to your pup's dietary needs. 
Our Expert Feeding Guide
We know that changing your dog's diet can be a challenge. After all, a poor diet can lead to weight gain, joint problems, skin sensitivities and a host of other health issues. Thankfully, we provide all of our customers with an approximate daily feeding guide that is completely tailored to the needs of your pet. We use the FEDIAF-published daily calorie requirements to help you safely switch your pooch's food.
Our Dried Dog Food and Treats
On top of our cold-pressed recipes, we also offer various treats to support your furry friend. Choose between our regular and grain-free recipes and add some treats to support your pup.
Read What Our Customers Have to Say
My dog has been with Bug Bakes for more than a year now and loves it. It rates very highly nutritionally which is important to us. Customer sertice has been excellent, helping me to manage the timing of orders so I don't have too much/too little food going forward which had been a problem with a previous online brand I'd been with. Thanks, Bug Bakes team!


Kirsty Green
My 18-month lab loves Bug Bakes. It gives him a healthy shiny coat. He has been eating Bug Bakes for 6 months now and he has very few health issues. I would recommend Bug Bakes as a brilliant healthy option to any dog.

Emma Borthwick
FAQ
How do you cold-press your food?
Our cold-pressing method is straightforward. It begins by adding the ingredients to the mixer. Once mixed, the ingredients are sent to the pelleter where moisture is added and the pellets are pressed. The pellets are then sent to the cooler and are bagged up when cool.
What is the difference between cold-pressed and dry dog food?
Traditional dry dog food is produced at higher temperatures in a process called extrusion. As a result, the food loses much of its nutritional value. Cold-pressed food, on the other hand, is produced at lower temperatures, meaning it retains more nutrients.
Are there any health benefits of cold-pressed recipes?
The benefits of a cold-pressed diet include:
- Improved flavour and taste
- Increased nutritional content
- Reduced sensitivity
- Reduced environmental impact
What are the main ingredients in your food?
The main ingredients in our food are:
- Black soldier fly larvae
- Barley (Regualr Recipe Only)
- Oats (Regualr Recipe Only)
- Apple
- Carrot
- Linseed
- Beet pulp
- Seaweed
- Blueberry
- Potato (Grain-Free Recipe Only)
- Sweet Potato (Grain-Free Recipe Only)
- Peas (Grain-Free Recipe Only)
- Chicory root extract
- Vegetable gravy
Is cold-pressed food hypoallergenic?
Yes, our cold-pressed food is gentle on dogs' tummies and is easier to digest, helping to reduce swelling and bloating.
Can my dog have a cold-pressed diet if it has a sensitive digestive system?
Yes. Our food is ideal for dogs with sensitive stomachs as it does not contain any unnecessary fillers. Not to mention, cold-pressing helps to reduce bacteria levels, lowering the risk of an upset tummy.
Is a cold-pressed diet suitable for dogs of all ages?
A cold-pressed diet is ideal for all pups over 2 months old.
How does cold-pressed compare to raw food?
Cold-pressed is as close to a raw diet as possible and maintains much of the 'raw essence' of the ingredients. It can be used either instead of, or alongside, raw foods as both will be digested in the same part of your pup's gut.
How can I make the switch?
It is always best to take a slow approach when transitioning from typical dog food to a cold-pressed diet. We advise you to gradually add a bit of cold-pressed food to your dog's food, going from 25% to 100% over a week. 
Is it more expensive?
No. You can easily make the switch without breaking the bank. Our recipes are affordably priced and have a higher nutritional benefit and lower environmental impact than our competitors. 
How long does cold-pressed food last?
If stored correctly, our cold-pressed recipes can last for up to 9 months.