Cold-Pressed Dog Food
If you are conscious of your dog's nutrition and environmental impact, choose our cold-pressed puppy food. The alternative manufacturing process uses low temperatures and minimal energy whilst retaining more of the essential goodness your dog needs.
We only use natural ingredients from UK farms in our cold-pressed dog food to offer your best friend a sustainable, delicious meal. It will keep their tails wagging all day long.
Hypoallergenic
Easy on Digestive System
Boosts Glossy Coats and Healthy Skin
Retains More Nutrients
Promotes Oral Health
Delicious
Approved by Vets
Ingredients Ethically Sourced From British Farms
What is Cold-Pressed Dog Food?
Cold-pressed dog food is an alternative to traditional kibble produced by extrusion. The process uses lower temperatures and retains more nutrients from ingredients, all in bite-sized pellets that are perfect for dogs of all shapes and sizes.
What Does the Cold-Pressing Method Look Like?
We have a simple, four-step cold pressing process, using lower temperatures than the conventional extrusion method. It takes a little longer, but it is worth it for the environmental and health benefits. Plus, we make all our food here in the UK and are DEFRA certified.
Here is how we go about it:
We mix the ingredients
The pelleter adds moisture before pressing the food into pellets
The pellets move to the cooler 
We bag them ready to eat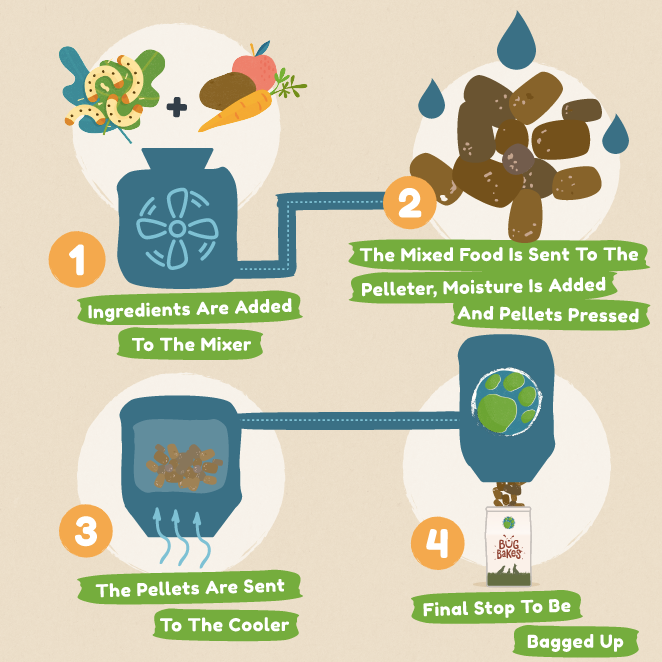 How Does Cold-Pressed Food Differ from Kibble?
Cold-pressed food has a key advantage over kibble: it is easier on your pup's digestive system. Traditional dried biscuits float and expand in water, making them difficult to digest and causing bloating. Cold-pressed food breaks down and releases its nutrients quickly, without digestive problems. 
Why Choose Cold-Pressed Food
By choosing cold-pressed puppy food, you can provide more for your best friend. Here are just a few of the benefits:
Nutrients to Support Health
The cold press process retains more nutrients than extrusion methods, offering your dog essential vitamins and minerals that support their coat and immune system. It also provides all the energy they need to thrive.
Support for Sensitive Stomachs
As cold-pressed pellets are easier to digest than standard kibble, they are perfect for any pup with a sensitive stomach. When combined with our insect protein, they become hypoallergenic, and we have a grain-free option to cater to even more food intolerances. No more worrying about loose stools and nausea.
Low Environmental Impact
The cold pressing process uses low temperatures and subsequently far less energy. You can give your pup a delicious meal and lower your influence on the climate crisis.
What Our Cold-Pressed Dog Food Contains
Our food is exclusively made from natural ingredients that we ethically source from British farms. It means we can pack in all the essential nutrients your pup needs daily to maintain a strong, healthy body. 
Protein 28%, Fat 11%, Fibre 5%, Ash 7%
Regular Food:
Insect - 33% (28% meal, 5% oil)
Barley - 27%
Oats - 13%
Apple - 4%
Carrot - 4%
Linseed - 4%
Beet Pulp - 4%
Seaweed - 1%
Chicory Root Extract
Vegetable Gravy - 4%
Blueberries
Glucosamine 400 mg/kg
Chondroitin 200 mg/kg
Grain-Free Food:
Insect 33% (28% meal, 5% oil)
Potato 27%
Sweet Potato 8%
Peas 5%
Apple 4%
Carrot 4%
Linseed 4%
Beet Pulp 4%
Vegetable Gravy 4%
Minerals
Vitamins
Brewers Yeast 1%
Seaweed 1%
Blueberry
Prebiotic MOS
Chicory Root Extract
Glucosamine 400 mg/kg
Chondroitin 200 mg/kg
Suitable For
Our cold-pressed puppy food is suitable for any furry friend over two months old and can support them throughout their life. It is ideal for promoting growth and development early on or supporting seniors in their golden years. Use our custom calculator to discover how much food your dog needs daily.
Puppies
Working Dogs
Seniors
Testimonials
I unfortunately had to take my 12 years old little cairn terrier to the vet due to constantly having an upset stomach. I switched to bugbakes and he's back to his normal happy self. Best move ever. Highly recommend for a healthy happy dog.

Francis Watt
I cannot praise this brand enough for how much this food has changed my dog's way of life. She has always had tummy issues and has gone through pancreatic flare ups a couple of times. Her energy, 💩 and overall health is a phenomenal. I would highly recommend trying this as an alternative to vet prescribed food as all the foods I've tried have not done her many favours. Customer service is lovely too!

Mikey
Fabulous customer service and product. Our wire fox terrier loves this food. He eats with a little oat milk in the morning and dry for dinner. His poos are nice and firm. Feel we're also doing our bit for the environment.

Kirsti Bradley
FAQ
Is all cold-pressed dog food hypoallergenic?
On its own, cold-pressed dog food is not necessarily hypoallergenic. However, our food uses novel protein and we have a grain-free option to cater to common food allergies in dogs.
Will cold-pressed dog food help my dog's sensitive digestive system?
Yes, cold-pressed pellets break down faster than normal kibble, making them easier to digest.
Is cold-pressed dog food suitable for all ages?
Our cold-pressed food is suitable for any pup over two months old and can support them for life. Use our calculator to learn how much food they need each day.
What is the best way to switch from typical dog food to Cold Pressed?
Whenever you change your dog's diet, you must do so gradually to avoid illness. Follow our transition schedule:
Day 1-2: ¼ new food, ¾ old food
Day 3-4: ½ new food, ½ old food
Day 5-6: ¾ new food, ¼ old food
Day 7+: entirely new food
Is Cold Pressed dog food more expensive than typical kibble?
No, our cold-pressed food rivals standard kibble offerings from many brands and often beats them on price. Plus, with our subscription service, you can save 10% on every bag you purchase and get free delivery.
Is cold-pressed food healthier for my dog?
Typically, yes. Cold pressing retains more nutrients than extrusion, delivering a rounded meal for your dog.
Is cold-pressed dog food freeze-dried?
No, the cold press manufacturing process is different to freeze drying. Cold-pressed food is formed into pellets at cold temperatures, whereas freeze-dried food removes the moisture from the food.
Will Cold Pressed food support my dog as well as raw food?
Raw food offers your pup natural goodness but requires freezer storage space, a thorough and time-consuming cleaning process and an impressive amount of cash. Cold-pressed food is a great alternative that maintains the natural ingredients and nutrients without the expense and hassle of raw produce.
Can I give my diet mixing raw and cold-pressed dog food?
Yes, raw and cold-pressed foods break down simultaneously, lowering the risk of digestive issues from the mixed diet.