Choosing gluten-free dog foods over traditional alternatives alleviates these issues and keeps your dog happy and healthy. We pack ours full of natural ingredients and sustainable insect protein to deliver a wholesome meal that looks after your pup and the planet.
Can Dogs Eat a Gluten-Free Diet?
Your dog's teeth tell you a lot about their diet; they are carnivores. They have sharp canines for tearing meat, not molars for chewing and grinding. Therefore, a gluten-free diet is ideal.
The prevalence of grain in dog foods has increased the occurrence of intolerances. Their immune and digestive systems have become increasingly used to gluten and started to reject it. Gluten-free sources of carbohydrates cater to these dietary requirements.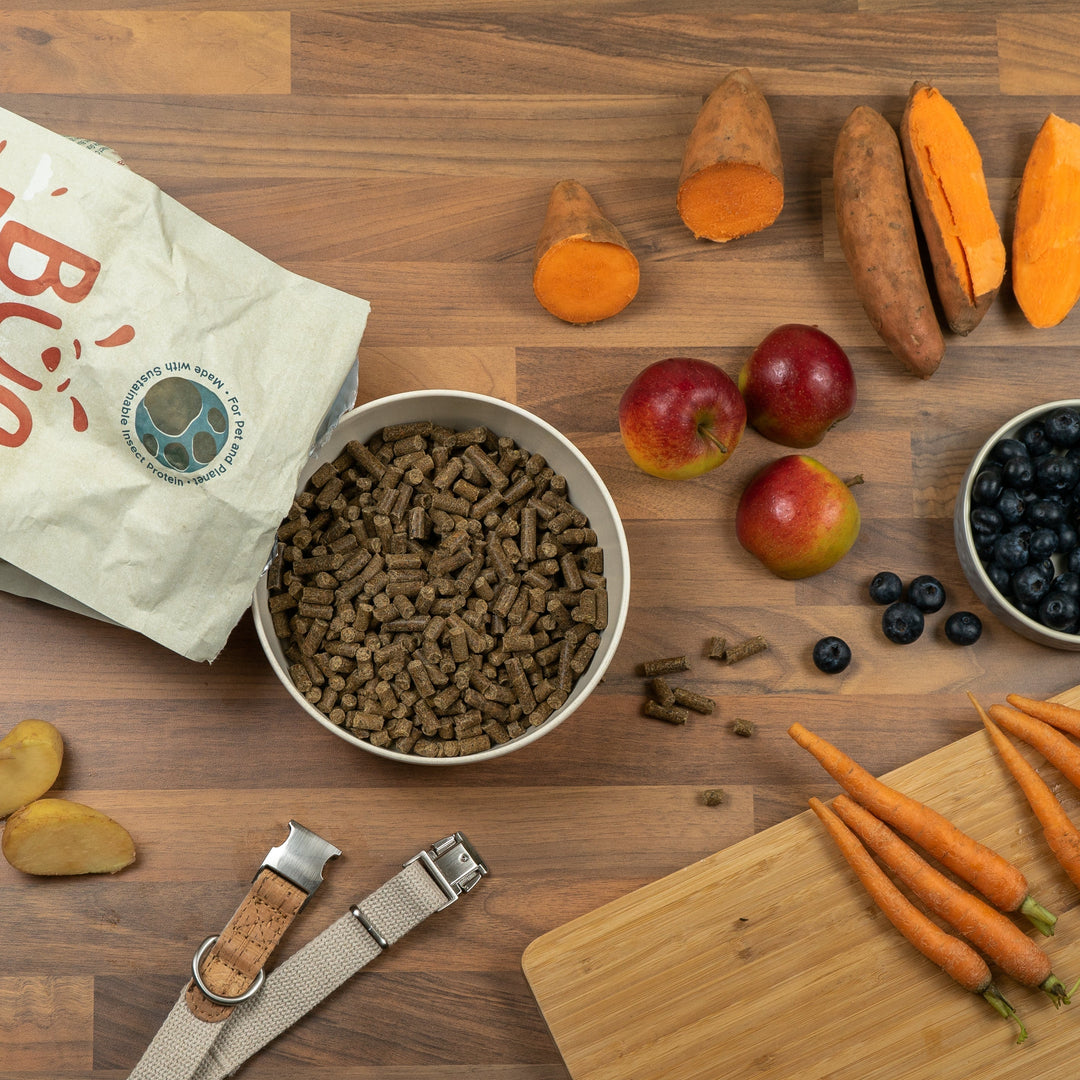 Is Gluten-Free Food Safe for Dogs?
Absolutely, and in many cases, it is actually safer for them. Most notably, Irish Setters can suffer from Gluten Sensitivity Enteropathy and cannot tolerate the protein in any amount. You should entirely remove it from their diet.
The key is to give your dog other sources of protein and carbohydrates so that they receive all the nutrients required for a healthy life. 
Remember that gluten is a protein, and eliminating it from your pup's diet can impact their ability to put on and maintain muscle mass. We offset the reduced protein by increasing our food's black soldier fly larvae contents so it is still high in protein and supports your dog's muscles.
Why Choose Gluten-Free Food?
For a gluten-intolerant pup, gluten-free dog food is a must. What's more, you can move your pooch onto a gluten-free diet even if they do not have an intolerance. There are multiple benefits to doing so.
Reduced Risk of Developing an Intolerance
Gluten intolerances often show their face later in life. Your pup can develop one by regularly eating gluten, especially if they are genetically predisposed to one. Choosing gluten-free food reduces this risk.
Prevents Itchy or Sore Skin
Itchy, red or sore skin are all common signs of an allergic reaction and may be caused by gluten in your pup's diet. Gluten-free food avoids these reactions so they can have healthier skin.
Prevents Behavioural Issues
A sore dog is an unhappy dog, and the reactions caused by excess gluten and grain can sometimes translate into behavioural problems and aggression. Removing the gluten often solves these issues.
Hypoallergenic
Nutrient-Rich
Delicious
Supports Digestion
Recipe Developed by Canine Nutritionists
Keeps Coats Shiny and Skin Healthy
Promotes Oral Hygiene
Sustainably Sourced Ingredients
Our Gluten-Free Recipe
We have crafted our gluten-free recipe with the help of expert canine nutritionists so that it provides all the nutrients your furry friend needs. We source as many of our ingredients from British farms as possible to support our local agricultural industry, and we even use the wonky produce that supermarkets typically reject to reduce food waste.
Protein 28%, Fat 11%, Fibre 5%, Ash 7%
Our Gluten-Free, Grain-Free Blend
Insect Protein - 33%
Potato - 27%
Sweet Potato - 8%
Peas - 5%
Apple - 4%
Carrot - 4%
Linseed - 4%
Beet Pulp - 4%
Seaweed - 1%
Blueberries
Chicory Root Extract
Vegetable Gravy - 4%
Brewers Yeast
Prebiotic MOS
Glucosamine 400mg/kg
Chondroitin 200mg/kg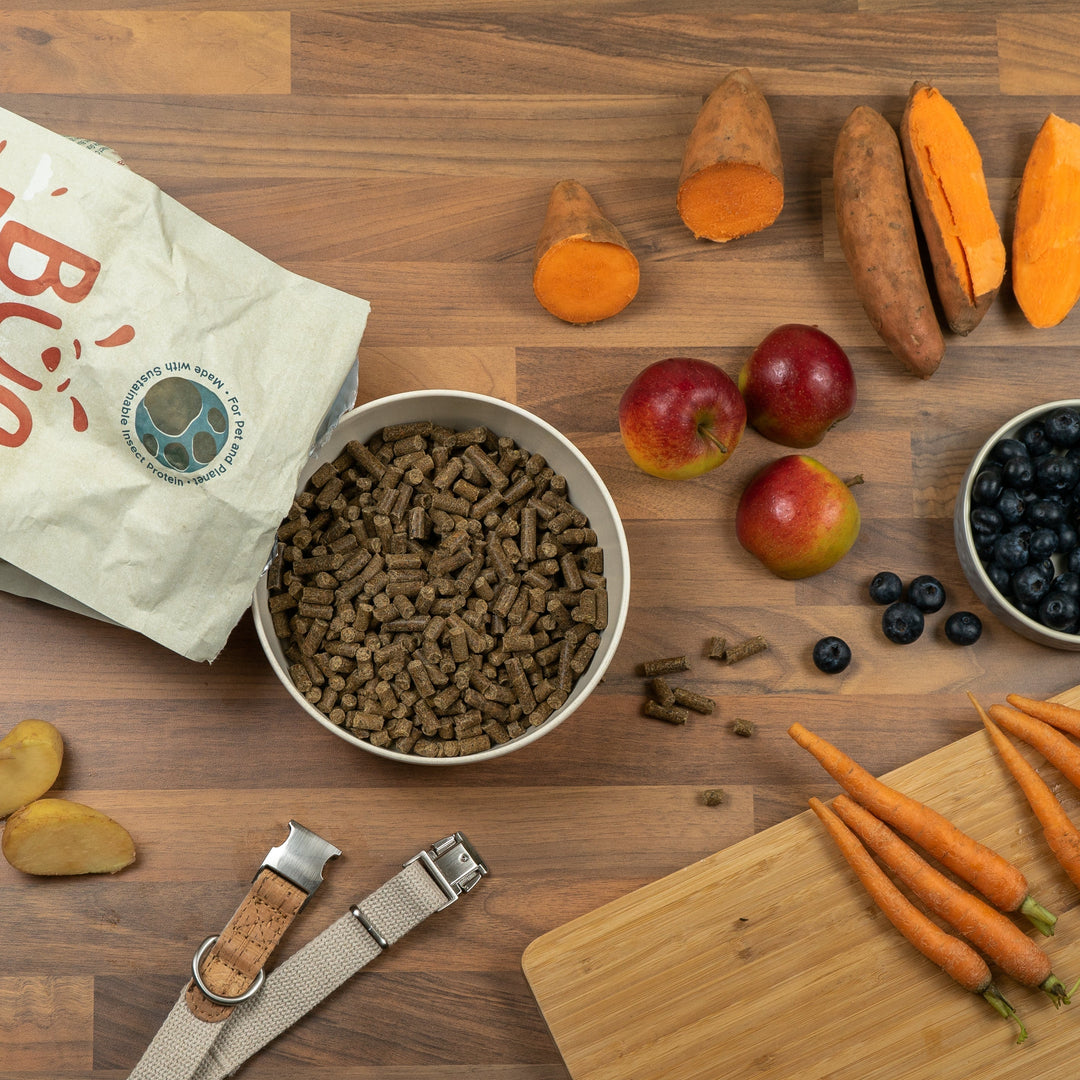 Grain-Free vs Gluten Free
Gluten is a protein found in grains like barley and wheat. It is a stretchy, glue-like substance that holds foods together. 
However, not all grains include gluten. Your pup can have a grain allergy as well as a gluten intolerance, meaning they cannot eat any grains. Don't worry. Our grain-free recipe is just that, making it perfect for any pooch.
Our Range of Dog Foods and Treats
We don't just make hypoallergenic grain-free dog food. Discover our range of products and treats for your canine companion.
We Cater to All Ages and Sizes