Nutritional Value Dog Food
We all want to give our best friends the best life possible, and their food is the perfect starting place. Choosing a nutritional dog food with essential protein, vitamins, minerals and fibre ensures they have everything they need to keep their bodies healthy and their tails wagging.
Order Now
Benefit From
Hypoallergenic
Nutrients-Dense
Promotes Digestion
Supports Healthy Coats and Skin
Prevent Plaque and Tartar Build-Up
Delicious
Nutritionist-Developed Recipe
Ethically Farmed Ingredients
Our Nutritional Value Dog Food
With the expertise of canine nutritionists, we developed two nutritional dog food recipes that deliver all the goodness your pooch needs in one meal. We choose natural ingredients to provide vital vitamins and minerals, and our cold-pressing manufacturing process retains more of them than traditional extrusion methods so that your dog receives all their benefits.
Protein 28%, Fat 11%, Fibre 5%, Ash 7%
Regular Recipe
Insect Protein - 33%
Barley - 27%
Oats - 13%
Apple - 4%
Carrot - 4%
Linseed - 4%
Beet Pulp - 4%
Seaweed - 1%
Blueberries
Chicory Root Extract
Vegetable Gravy - 4%
Brewers Yeast
Prebiotic MOS
Glucosamine 400mg/kg
Chondroitin 200mg/kg
Protein 28%, Fat 11%, Fibre 5%, Ash 7%
Grain-Free Recipe
Insect Protein - 33%
Potato - 27%
Sweet Potato - 8%
Peas - 5%
Apple - 4%
Carrot - 4%
Linseed - 4%
Beet Pulp - 4%
Seaweed - 1%
Blueberries
Chicory Root Extract
Vegetable Gravy - 4%
Brewers Yeast
Prebiotic MOS
Glucosamine 400mg/kg
Chondroitin 200mg/kg
What Nutrition Does Your Pup Need?
We all know the importance of nutrition and a balanced diet. It is no different for our dogs. Here are some everyday essentials for their meals:
Order Now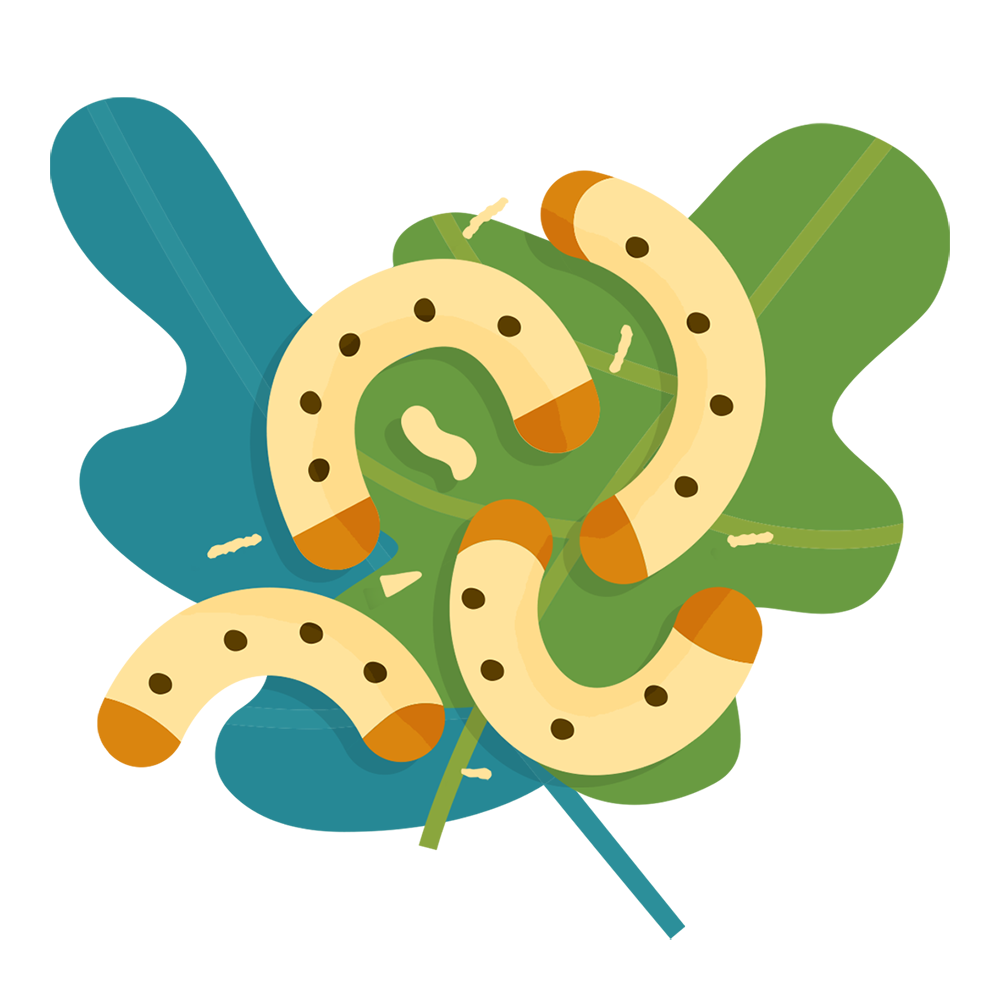 Protein
Protein is made up of amino acids that support muscle growth. It is essential to keep your pup fit and strong so they can live actively. Find a food that is at least 27% protein to maintain their muscle mass. We use black soldier fly larvae in our recipes as they deliver more protein per kg, are easier to digest and are far more sustainable than beef, pork or chicken. Producing 1 kg of protein from insects emits over 100x less greenhouse gas than traditional meats.
Fat
Though large amounts of fat negatively impact your pup's health, it is essential. It provides insulation and protection for their internal organs and helps them absorb vitamins A, D, E and K.
Fibre
Your dog needs soluble and insoluble fibre to increase stool bulk, absorb water and move food through the intestines. It is vital for their digestive health, although it needs to be balanced with their diet, as too much fibre can hinder mineral absorption.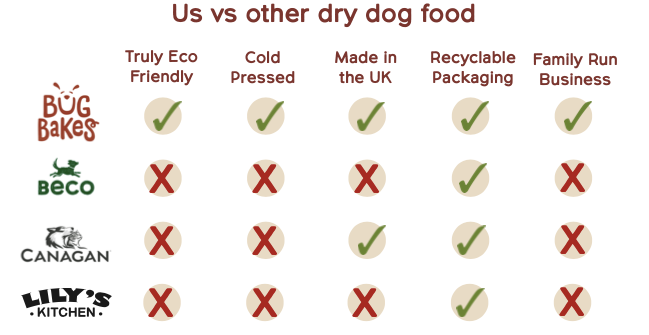 How We Compare to the Rest
By using insects, our food is 28% protein and only 11% fat, delivering a lean 39% fat-to-protein ratio. Plus, our protein is hypoallergenic, has a higher digestibility score than beef, chicken and pork and caters to pups with allergies to these meats. 
Our cold-pressed manufacturing method produces more digestible pellets and retains more nutrients than typical extrusion processes. That way, your dog will receive even more goodness from our natural ingredients. 
We also offer a grain-free recipe that caters to gluten and grain intolerances, making our food perfect for dogs with sensitive stomachs or food allergies.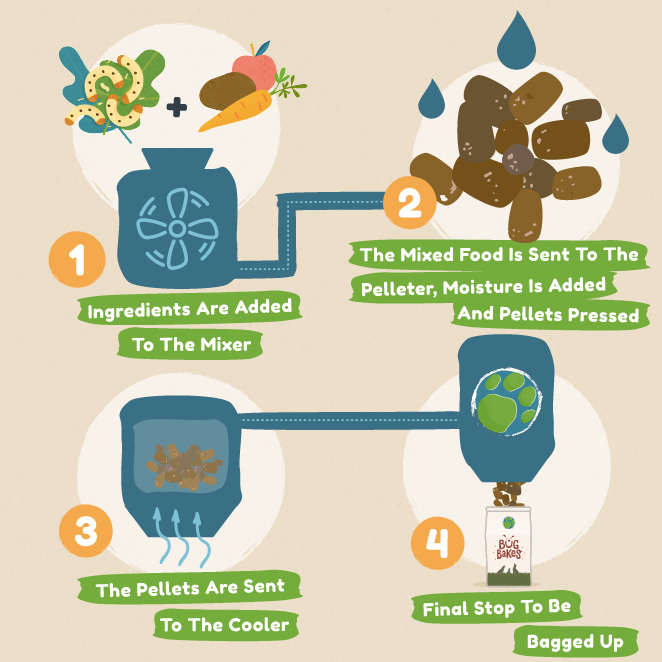 What to Look Out for with Grain-Free Dog Food
Sometimes, brands use the term 'grain-free' to advertise their food as a healthy option. If they replace the grain with low-quality proteins like soy, low-quality carbohydrates like legumes or processed ingredients and chemicals, your dog could miss out on essential nutrients.
Don't worry. Our grain-free recipe replaces barley and oats with potatoes, sweet potatoes and peas to deliver iron, magnesium, fibre and vitamins A, C and B6. Your furry friend receives all the nutrients they need in one wholesome meal.
Feeding Guidelines
Every pooch has different needs, depending on their size, age, gender, breed and activity level. However, you can follow some typical feeding guidelines:
Puppies require large amounts of protein and carbohydrates to help them grow and support muscle development. They also need to eat smaller portions more often as their stomachs cannot handle their daily food intake in one helping.
Working dogs need more protein and carbohydrates to protect their muscles and give them the energy they require daily.
Senior dogs need high-protein, low-calorie diets as they struggle to retain muscle mass. The added protein maintains and repairs muscle whilst the limited calories prevent weight gain. 
Use our custom calculator to learn how much of our food your dog needs daily. We can even tell you how affordable their diet will be. 
Nutritional Dog Food for Ages and Sizes