What to Look for in High-Quality Dog Food
There are many crucial components in super premium dog food. We know the importance of a balanced diet; it's the same for our dogs. They need:
Carbohydrates
Carbohydrates provide the required energy to live a happy, active life. You can choose from multiple carbohydrate options, and we offer a regular and grain-free recipe to fuel dogs with gluten intolerances and grain allergies.
Protein
Your dog relies on their muscles, but they cannot sustain these vital tissues without the amino acids from protein. They support muscle growth and repair, helping your furry friend stay fit and strong.
Vitamins and Minerals
Supporting multiple elements of the body, like vision and the immune system, vitamins and minerals are essential for healthy function. We include fruit and vegetables in our food and use a cold-press manufacturing process to retain the nutrients from them.
Fibre
The digestive system is one of the most important parts of your dog's body, and fibre helps to regulate it. Our pups need both soluble and insoluble fibre to support digestion and receive all the nutrients from their food.
Indulgent and Nutritious
Our Gourmet Dog Food
We have created two premium-quality dog food recipes and cricket crunch treats with the help of expert canine nutritionists. Discover our range and use our custom calculator to determine the best choice for your pooch.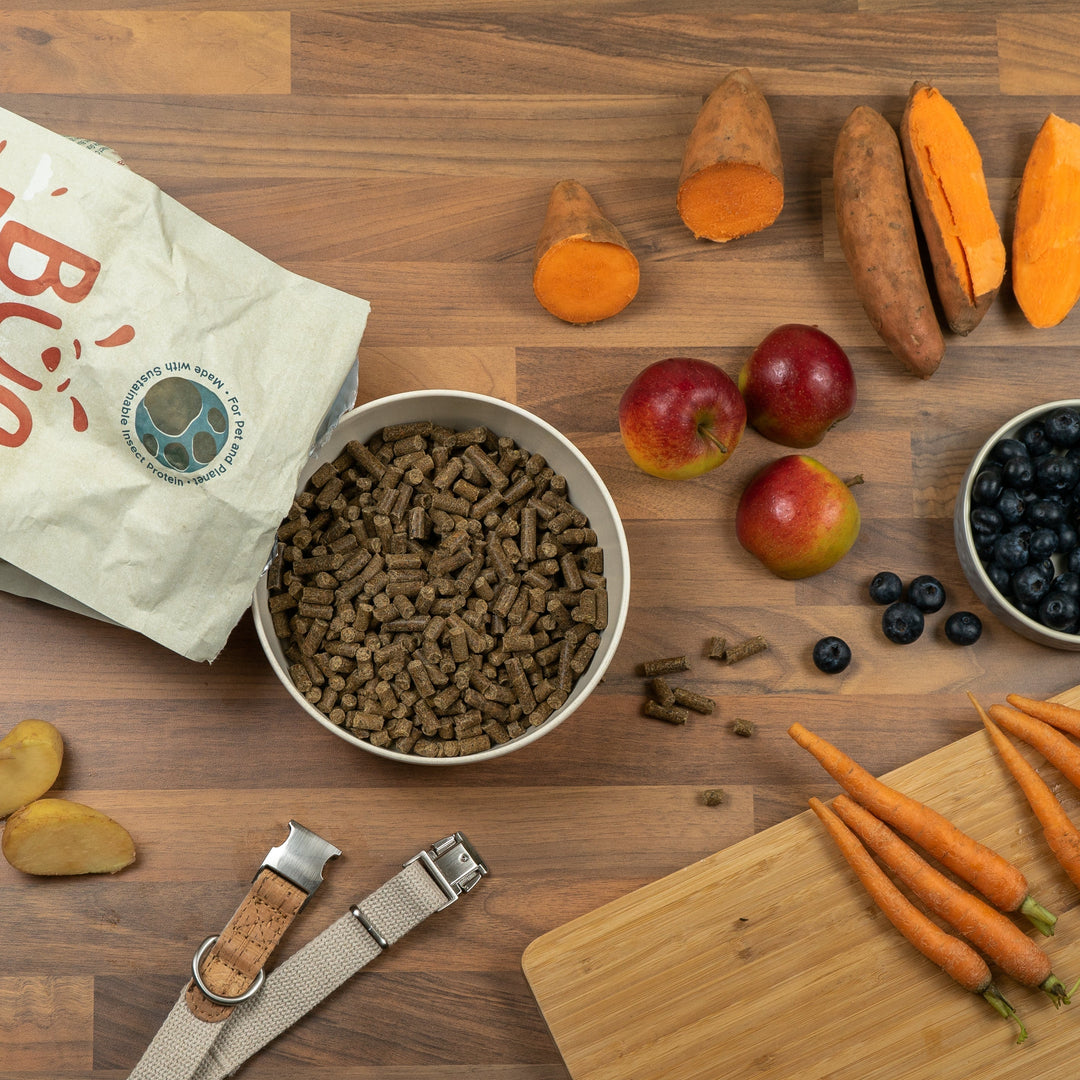 How Do We Compare to Our Competitors?
We believe our recipes deliver better nutrition at a lower price point than our competitors. Our food has a lean 39% fat-to-protein ratio offering protein without excess calories and is hypoallergenic. Plus, we have a grain-free option to cater to several dietary requirements.
Premium Dog Food for All Ages and Sizes
Our Ingredients
Our food comes in two options, grain-free and regular. Both are made with high-quality ingredients from here in the UK.
Protein 28%, Fat 11%, Fibre 5%, Ash 7%
Regular Recipe
Insect Protein - 33%
Barley - 27%
Oats - 13%
Apple - 4%
Carrot - 4%
Linseed - 4%
Beet Pulp - 4%
Seaweed - 1%
Blueberries
Chicory Root Extract
Vegetable Gravy - 4%
Brewers Yeast
Prebiotic MOS
Glucosamine 400mg/kg
Chondroitin 200mg/kg
Protein 28%, Fat 11%, Fibre 5%, Ash 7%
Grain-Free Recipe
Insect Protein- 33%
Potato - 27%
Sweet Potato - 8%
Peas - 5%
Apple - 4%
Carrot - 4%
Linseed - 4%
Beet Pulp - 4%
Seaweed - 1%
Blueberries
Chicory Root Extract
Vegetable Gravy - 4%
Brewers Yeast
Prebiotic MOS
Glucosamine 400mg/kg
Chondroitin 200mg/kg
Why Choose Bug Bakes
When you choose our premium dog food, you benefit from:
High-Quality Protein
Insects are an amazing source of complete animal protein which is easier to digest than chicken or beef.
Environmentally-Friendly
Choosing insect protein over beef saves 29,985 litres of water, 235m2 of land and 22kg of feed per kilogram of protein produced. Plus, it releases 100 times less greenhouse gas.
Natural Ingredients
No rubbish fillers, just great UK ingredients. Our regular or grain-free foods have fully transparent recipes so you can see exactly what goes into them.
Cold-Pressed
Our food is cold-pressed meaning you can feed it to your dog wet or dry. Simply add water and leave for a few minutes. Plus, it retains more nutrients than traditional extrusion manufacturing methods.
Sustainable
We pride ourselves on our sustainable practices. From using 100% recyclable packaging to sourcing our ingredients from UK farms, we do everything we can to support the world around us.
Are You Feeding Your Dog the Right Food?
All dogs are different and have varying dietary needs depending on their size, breed, age, gender and activity level. Pairing your dog with the right food is vital to supporting their health.
However, we often question whether we are giving our pups the best food. With the different options available, it is easy to get confused. Don't worry. There are some telltale signs that suggest that your chosen food may not be the right fit. Look out for the following issues:
Digestive Problems
If your pooch is suffering from diarrhoea, loose stools, constipation, excessive gas or bloating, their food may be to blame. 
Skin Conditions 
Sensitive skin, rashes and bumps can indicate allergic reactions or food intolerances. Watch for obsessive licking, paw biting and scratching.
Changes in Weight
Just like us, our pups' weight tells us a lot about their diet. If your furry friend has lost weight, they may not be receiving enough protein or calories. If they have gained weight, they may be eating too many calories.
Changes in Appetite
Avoiding eating or overeating can indicate dietary and digestive system issues.
Illnesses
Incorrect diets can cause general illnesses. Look out for vomiting, increased or decreased urination, diarrhoea or constipation, excess coughing or sneezing and changes in activity.
If you are ever uncertain about your dog's diet or health, consult a vet as soon as possible. They can run diagnostic tests on blood and stool samples to identify any issues and recommend treatments.
FAQ
How much dry food does my dog need? 
Every dog's dietary needs differ depending on their size, breed, age, gender and activity level. You can use our custom calculator to find out how much of our food your pup needs daily. 
How can I transition my dog onto a new diet safely? 
You should always transition to a different dog food gradually to prevent illness. We recommend that you follow this transition plan:
Day 1-2: 75% old food, 25% new food
Day 3-4: 50% old food, 50% new food
Day 5-6: 25% old food, 75% new food
Day 7 onwards: 100% new food
What ingredients should I avoid in dry dog food?
You should avoid Butylated hydroxyanisole (BHA) and Butylated hydroxytoluene (BHT) additives as they are labelled suspicious cancer-causing agents by the WHO. Also, avoid unspecified 'meat' or 'by-products', rendered ingredients, onions, garlic, avocados and grapes.
When does my dog need senior dog food?
Your dog's size typically determines their lifespan. A small dog may become senior at 10 or 11 years old, whereas a larger dog may become senior at 8. 
Senior dog food provides additional protein to help your ageing pooch retain muscle mass. However, if your dog is still healthy, they may not need to transition onto senior food. Consult a vet if you are unsure.