Does My Dog Have a Sensitive Stomach?
Sensitives stomachs in dogs typically show themselves through a range of digestive issues and symptoms. You should watch out for:
Vomiting
Diarrhoea
Constipation
Bloating
Gas
Loss of appetite
Lack of activity
Gurgling and digestive noises
What Dog Food Caters to a Sensitive Stomach?
Your dog's food dramatically impacts their digestive system. The ingredients can promote allergic reactions, inflaming the glut and causing issues like constipation, diarrhoea, gas and bloating. 
The best dog foods for sensitive stomachs use grain-free recipes with novel protein sources to avoid reactions to common food allergens. They may replace oats and barley with potato and beef or pork with insect protein.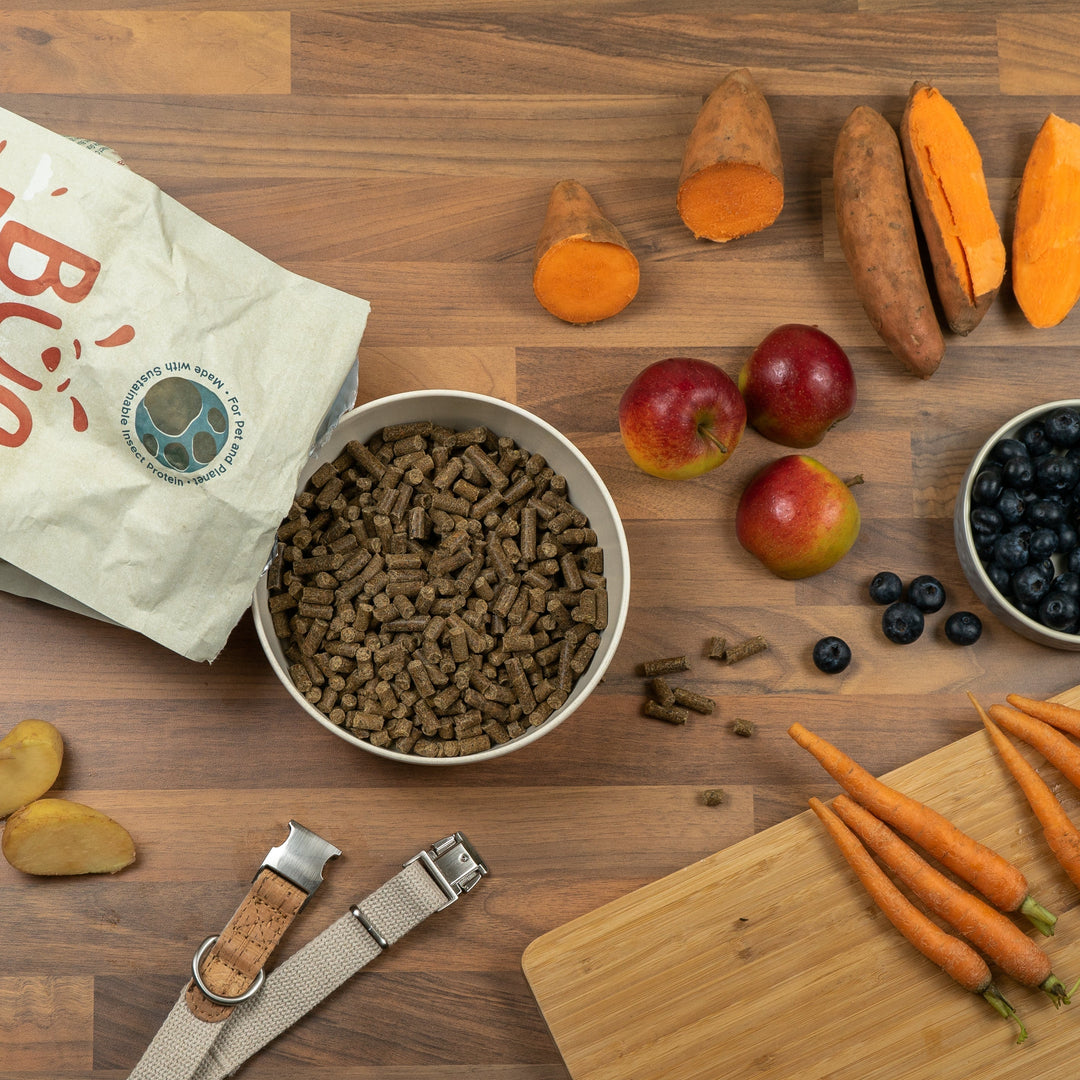 Our Easily Digestible Dog Food
Our mission is to care about every dog on the planet whilst looking after the world around us. We have developed grain-free dog and puppy food for sensitive stomachs to give all our furry friends their daily nutrients.   
What's more, our cold-pressed manufacturing method creates pellets that are easier to digest as they do not expand in water. It prevents uncomfortable bloating when eating.
Hypoallergenic
Nutrient Dense
Delicious
Boosts Digestion for Sensitive Stomachs
Promotes Healthy Coats and Skin
Supports Oral Health
Designed by Canine Nutritionists
Local Ingredients
How Insect Protein Eases Digestion
Dogs can be allergic to staple dog food ingredients. Their immune and digestive systems have become used to proteins like beef, pork and chicken and build up allergies and intolerances against them.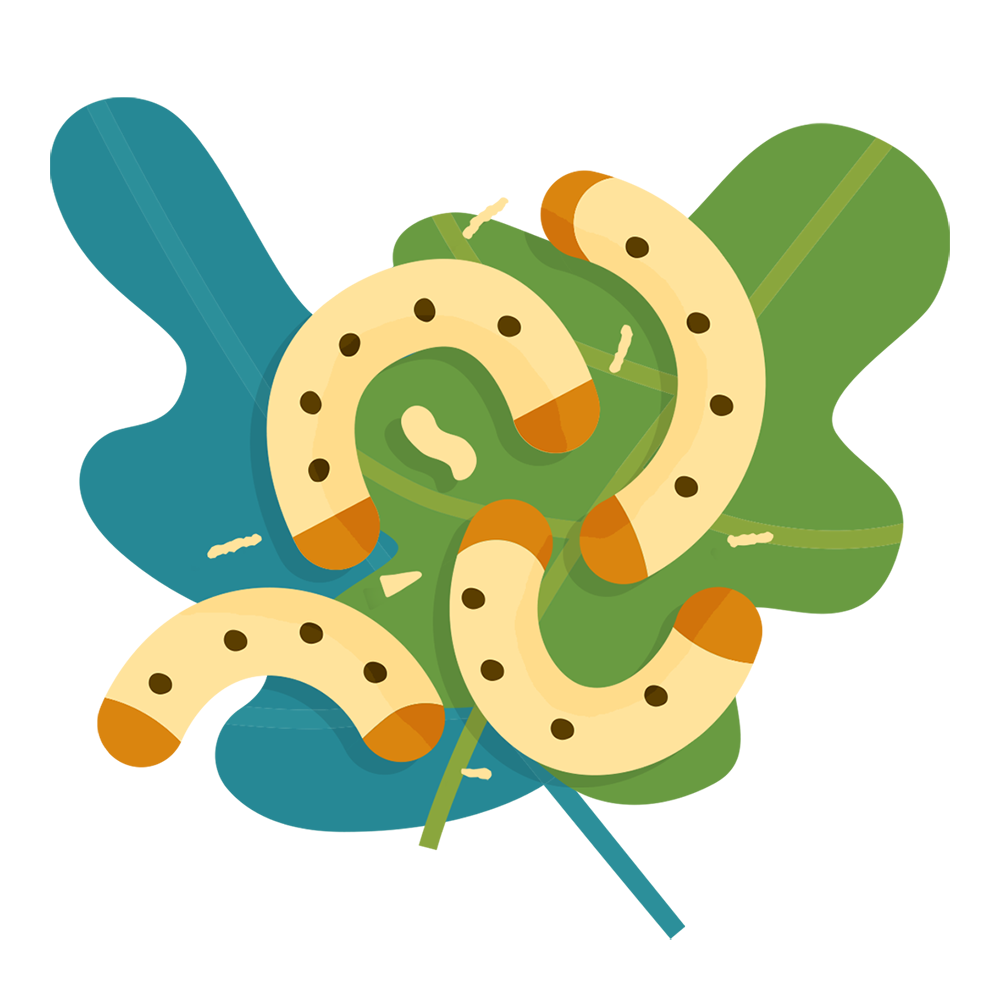 Insect protein is a novel source that our dogs have had little exposure to, meaning they have not built up intolerances against it. It delivers essential protein without the risks of digestive issues. 
What's more, it has a higher digestibility score than beef and chicken, allowing your furry friend to enjoy gentle digestion whilst gaining more nutrients.
What Goes into Our Dog Food for Sensitive Stomach?
We prioritise natural ingredients that are full of fibre for healthy digestion, and we source our produce from local farms to support domestic industries whilst helping your dog. Our grain-free recipe caters to grain and gluten allergies, as well as typical protein sources, preventing reactions. 
Protein 28%, Fat 11%, Fibre 5%, Ash 7%
Regular Recipe
Insect Protein - 33%
Potato - 27%
Sweet Potato - 8%
Peas - 5%
Apple - 4%
Carrot - 4%
Linseed - 4%
Beet Pulp - 4%
Seaweed - 1%
Blueberries
Chicory Root Extract
Vegetable Gravy - 4%
Brewers Yeast
Prebiotic MOS
Glucosamine 400 mg/kg
Chondroitin 200 mg/kg
What Ingredients Should I Avoid?
Unfortunately, many other dog foods contain ingredients that can harm our dogs and irritate their digestive systems. You should avoid colouring agents, chemical additives, artificial flavours and preservatives and excessive, low-value filler ingredients like soybean hulls and corn bran.
How to Transition to a Dog Food
If your pup has a sensitive stomach, changing suddenly to new dog food can irritate it and unnecessarily cause uncomfortable illnesses. Try this transition plan to avoid these problems:
Day 1-2: 75% old food, 25% new food
Day 3-4: 50% old food, 50% new food
Day 5-6: 25% old food, 75% new food
Day 7 onwards: 100% new food
Testimonials
Bugbakes really suits Seb. After trying different foods including those for sensitive digestion Bugbakes have been the best. I'm very glad we're doing our bit for the planet too.

Liz Duguid
I continue to feed my wire fox terrier bug bakes.

It's the only food that doesn't upset his sensitive tummy.

He has a bowl in the morning with a wee bit kefir or oat milk poured over and a bowl of dried for his dinner.

Kirstin Bradley
Really suiting our terrier. She's always had a slightly sensitive tummy and bug bakes gives her nice firm stool. Happy so far!

Ginny Slatford
Our Range of Dog Foods and Treats
We don't just make hypoallergenic grain-free dog food. Discover our range of products and treats for your canine companion.
We Cater to All Ages and Sizes
FAQ
Is wet food better than dry food?
For sensitive stomachs, wet food is better than dry food as it is easier to digest. You can add water to our dry kibble to soften it into wet food. 
Does grain-free dog food cater to sensitive stomachs?
Yes. If your dog has a gluten intolerance or grain allergy causing digestive problems, grain-free dog food can alleviate the symptoms. 
Do dogs suffer from food allergies?
Yes, dogs suffer from allergies caused by many common dog food ingredients, including gluten, grain, beef, chicken, pork and dairy.