Safe Weight Loss
Weight loss is a simple equation: eat fewer calories than you burn. That way, your dog will use body fat to keep their muscles going. Always choose this natural weight loss method over any supplements.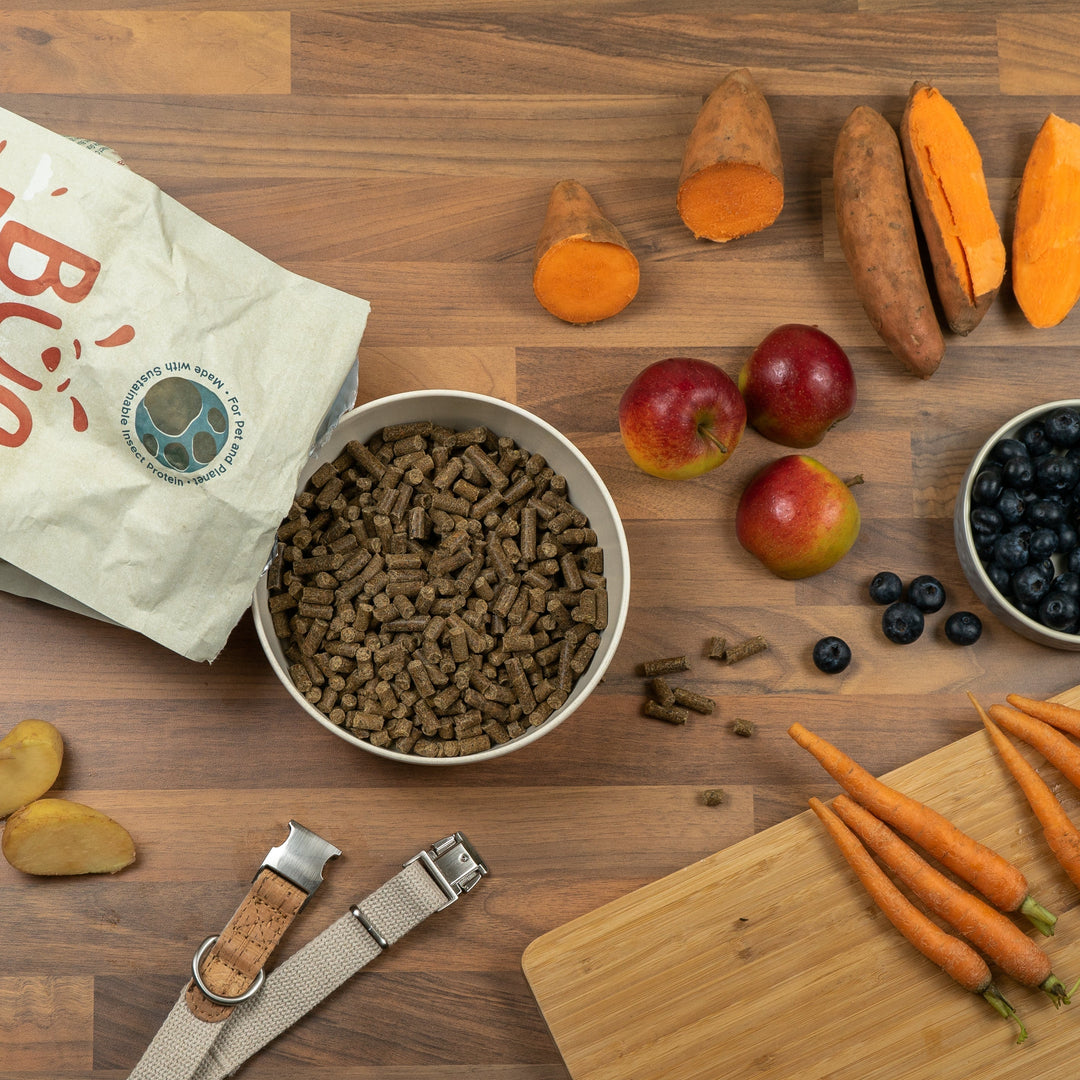 The quickest way to lose weight is simply eating less. However, healthy weight loss is actually focused only on fat loss, and just reducing the amount of food your pooch eats risks muscle loss. You need to maintain their protein intake to avoid weakening their body.
A safe rate of weight loss is around 1-2% of their body weight a week. You can achieve this rate by keeping your dog active and giving them a high-protein, low-calorie diet.
Which is the Best Dog Food for Weight Loss?
To give your dog the right balance of nutrients and calories so they can lose weight healthily, look for dog food that is:
High in protein 
Low in fat 
Low in calories
This balance provides enough protein to maintain and repair their muscles but reduces the calories they consume so that they lose fat. 
Luckily, our food provides just that. We use lean, novel black soldier fly larvae that delivers more protein than the same weight of chicken or beef. Plus, it has less fat and is easier to digest, meaning your dog can absorb more of the nutrients.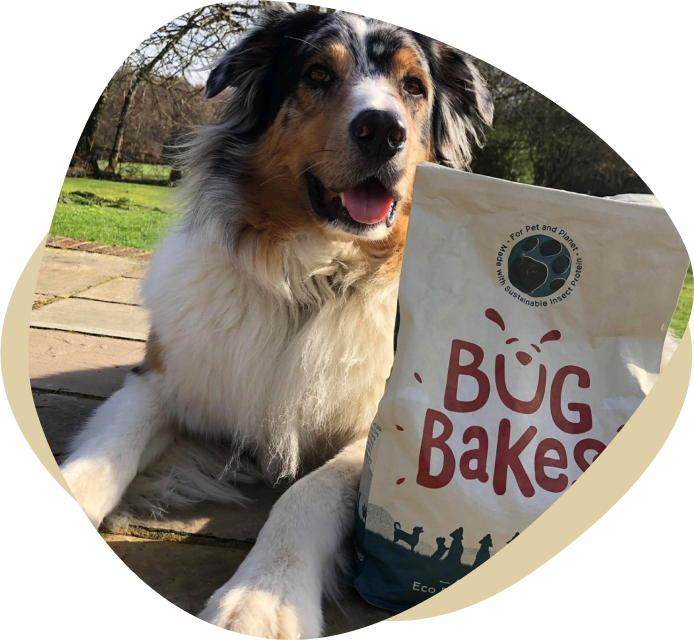 Is Your Dog Overweight?
With differing breeds and ages, it can be tough to determine whether your dog is overweight. Taking a body condition score gives you a clear indication of your pooch's weight. 
To do so, you need to evaluate your pup's body and score it from one to nine, with one being severely underweight and nine being obese.
Start by looking at your dog from above. You should see a slightly tapered waistline towards the back legs. Then look from the side for an abdominal tuck starting at the ribcage. Finally, gently run your hands down the torso to feel for the rips underneath the skin.
If all these features are present, score your dog a five, meaning they are a healthy weight. If they are pronounced, score them lower as they are likely underweight. If they are not present, score them higher as they are likely overweight. 
For a comprehensive judgement, take your dog to a vet who can provide an expert opinion on your dog's health and diet.
Hypoallergenic
Rich in Nutrients
Delicious
Enhances Digestion
Created by Canine Nutritionists
Boosts Shiny Coats and Healthy Skin
Promotes Oral Health
Sustainably Sourced Ingredients
What Goes into Our Dog Food for Weight Loss
We support ethical British farming with our ingredients to give your pooch a nutritious meal that supports their weight loss and the world around us. Full of fresh fruits and vegetables, it provides additional vitamins and minerals to keep your furry friend happy whilst losing weight.
Plus, the insect protein delivers an incredibly lean 39% fat-to-protein ratio that supports your pup's muscles and helps them lose body fat.
Protein 28%, Fat 11%, Fibre 5%, Ash 7%
Our Regular Recipe
Insect Protein - 33%
Barley - 27%
Oats - 13%
Apple - 4%
Carrot - 4%
Linseed - 4%
Beet Pulp - 4%
Seaweed - 1%
Blueberries
Chicory Root Extract
Vegetable Gravy - 4%
Brewers Yeast
Prebiotic MOS
Glucosamine 400mg/kg
Chondroitin 200mg/kg
Suitable For
We want to support dogs of all ages, so we developed a recipe with expert canine nutritionists that is suitable for any pup over two months old. That way, it can be with your dog for their entire life.
We have a custom calculator to determine the amount of food your pup needs daily. It accounts for their age, gender, breed, weight and activity levels to show you how affordably you can support their health with our food.
Puppies
Working Dogs
Senior Dogs
We Cater to All Ages and Sizes
How We Weigh Up Against the Rest
With a lean, novel protein source, we offer a low 39% fat-to-protein ratio recipe that avoids common dog food allergens like beef, chicken, pork and dairy. 
Our food can also lower your dog's carbon pawprint by 99%. Farming 1 kg of protein from insects uses 2,000 times less water, 235m2 less land, 12 times less food and produces 100 times less greenhouse gas emissions than beef.
How to Switch to a Weight-Loss Food
Whenever you change your dog's diet, you should transition to the new food gradually to avoid illness. We recommend that you use the following plan:
Day 1-2: 25% new food, 75% old food
Day 3-4: 50% new food, 50% old food
Day 5-6: 75% new food, 25% old food
Day 7 onwards: 100% new food
Testimonials
My dog loves Bug Bakes. She is very healthy, the right weight and has a lovely shiny coast. She's been eating this for over a year now. Thank you so much for giving us a greener alternative she loves.

Lynne F
I am very happy with bug bakes my girl absolutely loves them .

It has help me to get her weight under control 

And also help to sort out her bowels,

Very pleased with finding this company.

Lisa Boylan
Mabel, the very fussy border collie, will eat Bug Bakes on their own but she usually has them mixed with wet food. Everything gets eaten. No waste. Good poos. No increase in waistline. Win win.

Christine South
Our Range of Dog Foods and Treats
We don't just make hypoallergenic grain-free dog food. Discover our range of products and treats for your canine companion.