Dry Food For Dogs
Dry dog food is a staple in the diet of man's best friend. So choosing a dried food for dogs and puppies loaded with essential vitamins, protein and fibre gives your pooch every nutrient they need.
Our dried dog food is made in the UK from sustainable insect protein, making it hypoallergenic and environmentally friendly. It packs the same amount of protein as beef, pork and chicken but lowers your carbon footprint by up to 99%. With our dry complete dog food, you can boost a pup's health and fight the climate crisis. 
Boosts Digestion
Promotes Healthy Skin and Hair
Hypoallergenic
Reduces Plague and Tartar Build-Up
Delicious
Natural, Nutrient-Rich Ingredients
What Goes into Our UK-Made Dried Dog Food?
We know you care about your puppy's nutrition and want to choose a complete dry dog food that fuels them properly. Learn about our natural recipe and nutritional benefits:
Protein 28%, Fat 11%, Fibre 5%, Ash 7%
Regular Food:
Insect - 33% (28% meal, 5% oil)
Barley - 27%
Oats - 13%
Apple - 4%
Carrot - 4%
Linseed - 4%
Beet Pulp - 4%
Seaweed - 1%
Chicory Root Extract
Vegetable Gravy - 4%
Blueberries
Glucosamine 400 mg/kg
Chondroitin 200 mg/kg
Grain-Free Food:
Insect 33% (28% meal, 5% oil)
Potato 27%
Sweet Potato 8%
Peas 5%
Apple 4%
Carrot 4%
Linseed 4%
Beet Pulp 4%
Vegetable Gravy 4%
Minerals
Vitamins
Brewers Yeast 1%
Seaweed 1%
Blueberry
Prebiotic MOS
Chicory Root Extract
Glucosamine 400 mg/kg
Chondroitin 200 mg/kg
Suitable For
You can rely on us to support your dog throughout their life. Our dry food for puppies, small dogs and large dogs will always give your best friend the vitamins they need.
Puppies
Working Dogs
Seniors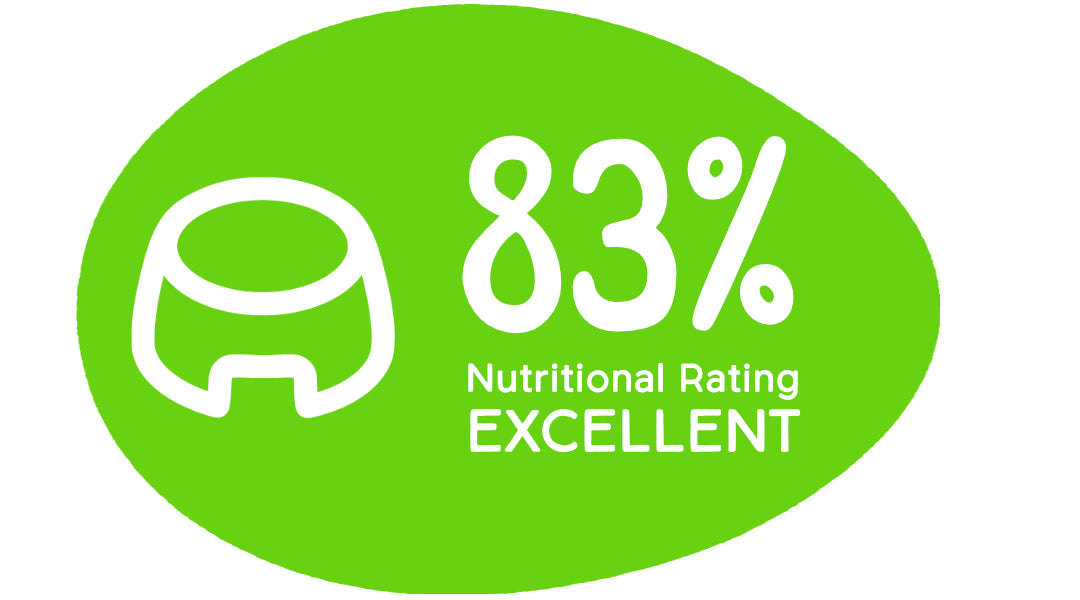 How We Create Nutritious, Tasty Food
Providing the most nutritious, delicious food is our uppermost priority. We invest in natural products to pack our food with vitamins, fibre, natural fats and protein, giving your pup everything they need to thrive and grow whilst promoting healthy skin, hair and teeth.
Our Available Bags Sizes
We offer various bag sizes of regular and grain-free dry dog food, letting you choose based on your needs. With our subscription service, you can save 10% on each bag of dried food for puppies, small dogs and dogs. We have 2.5kg, 6kg and 10kg bags, or 2x10kg bag multipacks to save you an additional £10. Our 15kg bags of food for working dogs are also VAT free.
You can use our custom calculator to learn how much food your dog needs daily and how affordable it can be. We consider the breed, gender, weight, age and activity levels of your dog and identify their unique needs.
Is Your Food Suitable for Specific Diets?
A vet may have put your dog on a specific diet for several reasons, including allergies and intolerances. We factored these requirements into our recipe when creating our dried puppy food, making it suitable for almost any dog. Common allergy triggers like beef, chicken, dairy, eggs and soy are no longer an issue, and our grain-free is an ideal option if your dog has a wheat allergy. Plus, we included a wealth of nutrient-rich ingredients for a rounded diet that keeps tails wagging.
Treats that Supplement Your Dog's Diet
Every dog loves treats, especially after performing their favourite tricks. So we have continued our philosophy and developed a line of healthy treats to accompany our dry puppy food. 
Our Cricket Crunch treats are made of the same natural, sustainable ingredients and make the perfect reward without the environmental damage of traditional options.
Testimonials
Our dog absolutely loves bug bakes. The only treat she actually chews. We have a subscription they always deliver on time. In 3 years there has never been a single issue.

Deb Pugh
My dog has always had good quality dry food but I felt unhappy about the impact on the planet. Insect based dog food seems the way forward and we looked around. Bug bakes seemed the best and they have always been super reliable. My working Labrador has the large working dog sized bag. Her poops have been better since on bug bakes and she always chomps it down happily. Its a success!

Toast
Fabulous customer service and product. Our wire fox terrier loves this food. He eats with a little oat milk in the morning and dry for dinner. His poos are nice and firm. Feel we're also doing our bit for the environment.

Kirsty Bradley