High Fibre Dog Food
Our high-fibre dog food makes keeping your best friend's gut healthy easy. It is an ethical, nourishing choice for any dog, protecting their digestive system and the world around them. If your pup is suffering from problems with its poo, our food will help firm up their stools making it easier for you to clear up.
Our recipes are loaded with natural ingredients that provide soluble and insoluble fibre. From barley to carrots in our regular recipe to sweet potato and linseed in our grain-free option, your dog benefits from an abundance of valuable minerals. Discover our nourishing high-fibre dry dog food and treats.
Promotes Digestive Health
Hypoallergenic
Natural Ingredients
Sustainably Sourced
Robust Skin and Hair
Loaded with Nutrients
Delicious
Aids Oral Health
What is Fibre?
Fibre is a type of carbohydrate that aids digestion in your dog's intestines, and vets recommend it as an essential part of your dog's diet. Our high-fibre dog food, made in the UK, contains both soluble and insoluble fibre to look after your furry friend.
Soluble Fibre
Soluble Fibre takes on a gel-like texture when it absorbs water and decreases the rate of digestion, allowing nutrients to be slowly absorbed into the bloodstream. This effect prevents sharp spikes and dips in insulin levels.
Insoluble Fibre
Insoluble fibre is not digested in your pup's gut, meaning it can bulk out stools and regulate their digestive system.
Finding the Correct Balance
As with any part of a healthy diet, balance is vital. Both types of fibre assist and manage the digestive system, meaning that imbalances can create problems. 
We have created regular and grain-free recipes that contain the correct proportions of soluble and insoluble fibre for your dog to thrive. Use our custom calculator today to learn about your dog's required daily intake and how you can affordably obtain premium high-fibre dog food.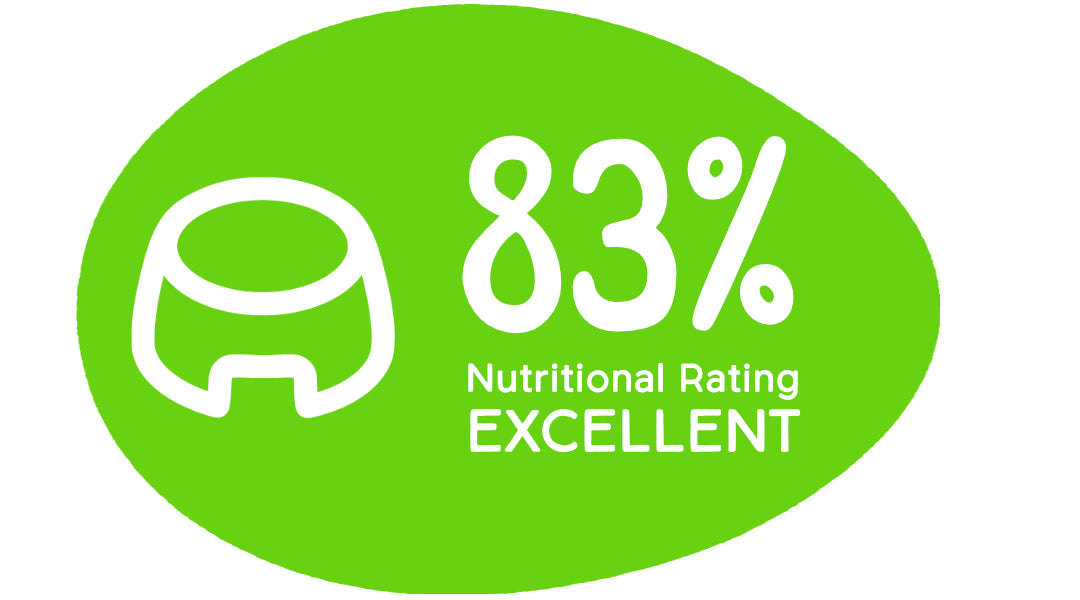 Benefits from a High-Fibre Diet
A pup suffering from dietary and digestive issues is not themselves; they may be inactive or unhappy. With our high-fibre dry dog food, you can alleviate these issues and get their tails wagging proudly again. It is perfect for:
Weight Loss
If your best friend needs to lose puppy fat, high-fibre meals work wonders. Fibre bulks out their food and leaves them feeling full for longer. Then, they can remain active with fewer calories, losing weight without losing energy.
Preventing Diarrhoea
Diarrhoea is an uncomfortable problem that some dogs face. Adding soluble fibre to their diet slows digestion and absorbs additional moisture from food, preventing loose stools.
Controlling Diabetes
Regulating insulin levels is the backbone of managing diabetes. A high-fibre diet reduces the extent of blood sugar level swings, keeping your pup's insulin constant.
Reducing Digestive Upsets
If your pooch struggles with constipation or diarrhoea, an insoluble and soluble fibre imbalance may be to blame. Increasing insoluble fibre can relieve constipation, whilst increasing soluble fibre prevents diarrhoea.
Easing Anal Gland Issues
If your best friend frequently suffers from problems with their anal glands, a high-fibre diet can help. By bulking stools with insoluble fibre, we can relieve the symptoms and empty the glands.
What Goes into Our Dog Food?
When you choose our high-fibre dry dog food, your dog receives goodness from the environment. All our ingredients are natural and responsibly sourced from here in the UK, meaning that whilst mother nature looks after your furry friend, we look after her. Here are the natural ingredients providing vital fibre, protein, carbohydrates and vitamins:
Regular Food:
Insect - 33% (28% meal, 5% oil)
Barley - 27%
Oats - 13%
Apple - 4%
Carrot - 4%
Linseed - 4%
Beet Pulp - 4%
Seaweed - 1%
Chicory Root Extract
Vegetable Gravy - 4%
Blueberries
Glucosamine 400 mg/kg
Chondroitin 200 mg/kg
Grain-Free Food:
Insect 33% (28% meal, 5% oil)
Potato 27%
Sweet Potato 8%
Peas 5%
Apple 4%
Carrot 4%
Linseed 4%
Beet Pulp 4%
Vegetable Gravy 4%
Minerals
Vitamins
Brewers Yeast 1%
Seaweed 1%
Blueberry
Prebiotic MOS
Chicory Root Extract
Glucosamine 400 mg/kg
Chondroitin 200 mg/kg
Nutritional Values
We all want to know what is in our dog's food so that we can give them the best possible diets. Our highest priority is your dog's health and happiness, so we created food that provides essential minerals. For an accurate picture of how it helps, read our nutritional information:
Protein 28%, Fat 11%, Fibre 5%, Ash 7%
Suitable For
Every dog can benefit from high-fibre dog treats and food. Our options are suitable for pups over two months old, giving them fibre to regulate and enhance their digestion. Whether you have a growing puppy that needs to take in vital nutrients or a senior dog that requires a little extra support from their food, Bug Bakes is an ideal choice. You can subscribe to our save 10% on every bag of food you need.
Puppies
Working Dogs
Seniors
Testimonials
Food arrived.
My dog has really enjoyed it, I was a little dubious.
The noticeable difference has been his bowel movements- great poos!

Melanie
My dog has been on Bug Bakes for about a year and still loves them. Her health has stayed great and her stools are always good!! The team has great communication and is 100% reliable. If you are looking for an eco-friendly food source, I can't recommend Bug Bakes enough.

Anonymous Customer
Really suiting our terrier. She's always had a slightly sensitive tummy and bug bakes gives her nice firm stool. Happy so far!

Ginny Slatford